The Cobra's Got Charm: Dazzling new series launches in November from Stephanie Laurens!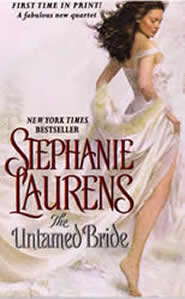 Have a hankering for an exotic new spin on one of your favorite authors?  Avon Books has a veritable feast for you with the launch of Stephanie Laurens' amazing new series, "The Black Cobra Quartet." Starting with THE UNTAMED BRIDE (on sale 10/27/09) — romance readers are going to get a taste for four dashing officers of the British East India Company, who must come to the aid of the Crown, battling insidious cultists with nefarious aim…and for the four unforgettable heroines who help these dashing heroes vanquish this ruthless enemy!

Want a foretaste of the feast to come?  Check out the series' book trailer, created by the ever-talented filmmaker Brady Hall.
We've only just whetted your appetite?  If you want a sneak peek at the opening chapter of THE UNTAMED BRIDE, visit www.untamedbridepreview.com; and if you're really curious, and want a foretaste of the passion to come in February 2010 with the release of THE ELUSIVE BRIDE (book two in the quartet!), visit www.elusivebride.com.
Now, why do I want to go out to Bombay Palace for lunch today?
One lucky commenter will win an advance copy of

THE UNTAMED BRIDE

.