Before I turn the blog over to Katie, I'd  like to send a special thanks to Kensington Publishing (my wonderful editor Peter Senftleben) for supplying an entire year of debut titles. And to Pamela and Wendy at Avon Books, who are so fantastic to work with, thank you for all the events and great books!  And to the individual authors who offered up their books for the giveaway, thank you, ladies, for your generosity.
Now to start the week off in high style, it's reviewer extraordinaire, Katiebabs!
One of the things I love about reading is finding out about debut authors. These new faces bring so much to the publishing world because they have fresh ideas and their excitement is contagious because they are the new kids on the block.
Here at The Seasons Blog, we are all about showcasing these debut authors that have really made their mark in the historical romance genre. I have a few to recommend that really made an impression on me and ones I will keep my eye on in the next coming years.
Welcome me in congratulating the 2009 class of debut authors!
We're spotlighting, in alphabetical order, the two debuts we're giving away to 4 lucky commenters today(2 copies each).
Leanna Renee Hieber's haunting tale of Victorian England had many people talking. In part it had to do with one of the longest titles for a book this year with The Strangely Beautiful Tale of Percy Parker. Percy Parker is a fabulous cross genre that both teens and adults can enjoy. Leanna's heroine, Percy, channels most of our hidden desires and worries from longing for someone we think we would never be worthy enough for; to believing in ourselves and knowing we are incredible people regardless of what we look like on the outside. Strangely and beautiful are two perfect words when describing a Hieber book.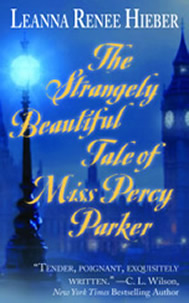 The Strangely Beautiful Tale of Miss Percy Parker
Author: Leanna Renee Hieber
Publisher: Dorchester
Pub. Date: August 25
ISBN-13: 978-0843962963
320 pages
What fortune awaited sweet, timid Percy Parker at Athens Academy? Considering how few of Queen Victoria's Londoners knew of it, the great Romanesque fortress was dreadfully imposing, and little could Percy guess what lay inside. She had never met the powerful and mysterious Professor Alexi Rychman, knew nothing of the growing shadow, the Ripper and other supernatural terrors against which his coterie stood guard. She knew simply that she was different, haunted, with her snow-white hair, pearlescent skin and uncanny gifts. But this arched stone doorway offered a portal to a new life, an education far from the convent—and an invitation to an intimate yet dangerous dance at the threshold of life and death….
~
Sarah Parr's Renegade is an exotic tale of far off lands with a righteous but seductive hero. This release from Kensington Zebra was everything I could wish for in a historical romance. Swashbuckling adventure comes to mind. Sarah is a much welcomed author for Kensington and with this one book she has proven she is an author to watch.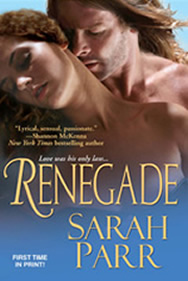 Renegade
Author: Sarah Parr
Publisher: Kensington
Pub. Date: June 1
ISBN-13: 978-1420104783
320 pages
Far from England, alone for too long, Captain Jonathon Barry Is captivated the instant he saw Jaline–she is too magnificent not to notice. There is a grace to her movements, an elegance to her bearing, that sets her apart even before she lifts her exotic black eyes or speaks. Her voice is intoxicating, soft as velvet with a sweet, lilting quality, as she recounts an evil bargain made against her will. She is to be his mistress, and he may do with her as he pleases …
Jonathon is deeply torn, for Jaline is indeed his by right. She is only a slave, the prize he has won in a Constantinople gambling den. Trembling, bared to him, body and soul— he can see how cruelly she has been treated. It is clear that Jaline is in danger still and he may well be her only hope. Yet even a renegade like Jonathon would risk anything to save so beautiful a woman…and to love her, if she will let him.
Four others on my list are:
These are only a select few historical romance debut authors who I enjoyed reading this year. Do you have any other debut authors to recommend for the class of 2009?
Katiebabs   

---
Wait, we're not finished yet. While you're pondering Katie's question, take a look at 2 (two) other positively delicious debuts that you can win today.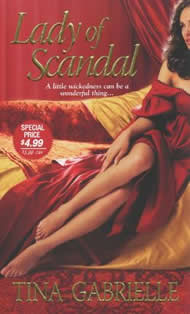 Lady of Scandal
Author: Tina Gabrielle
Publisher: Kensington
Pub. Date: September 1
ISBN-13: 978-1420108484
320 pages
A WOMAN WITH A SECRET
Victoria Ashton has intelligence and ambition—qualities of little value to most marriage-minded gentlemen of the ton. Her own father has no idea of Victoria's hidden life as an anonymous trader in London's stock market. But her hopes of independence are shattered when her father's enemy, Blake Mallory, assumes Charles Ashton's debts and presents Victoria with a stark choice: live with him as his mistress for one year, or condemn her family to bankruptcy.
A GENTLEMAN WITH RESOLVE
For years Blake has dreamed of justice, and his scheme becomes all the sweeter when he sees the beauty that Victoria has become. Scoundrel he may be, but Blake will not force anyone into his bed. He intends to entice Victoria, one wicked kiss at a time. But with a woman as spirited and sensual as Victoria, seduction works both ways—and a plan rooted in revenge can blossom into a scandalous passion…
~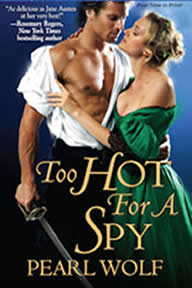 Too Hot For a Spy
Author: Pearl Wolf
Publisher: Kensington
Pub. Date: March 1
ISBN-13: 978-1420104806
320 pages
Resistance is futile…
Lady Olivia Fairchild has always lived a life of luxury and ease, but she longs for the kind of intrigue that can't be found on a ballroom dance floor. Then Olivia learns she's been accepted has the first female student in England's prestigious spy school. But spy–training is far more grueling than Olivia ever imagined—and her dashing spymaster seems bent on banishing her from the school in record time…
When every look brings them closer…
Sebastian Brooks believes women have no place within the dangerous world of espionage—and he's determined to oust Olivia by whatever means necessary. But even as Sebastian mercilessly taunts her, he finds the sight of Olivia's shapely body gallivanting on horseback is driving him wild. Olivia, too, can feel her longing for Sebastian heating up. Surrendering to her desire could be the most reckless move of her life—but resisting it may be impossible…