The cover of A Talent for Sin caught my attention immediately. The heroine's coquettish look over the shoulder. Nice.  Provocative. Seemingly innocent. Then I read the back cover blurb. Now I'm completely intrigued. Older woman, younger man. But wait, the girl on the cover doesn't look more than twenty. Never mind that, it works. 🙂 I'm too impatient to go to the book store, so I download it immediately. I read it in two days (hey, I was busy writing and revising my life away). I adored it. The beginning took my breath away. Can you really start a book like that?  It gave me ideas for the future… Suffice it enough to say, wonderful debut. So without further ado, dear readers,  please welcome Lavinia Kent to The Season's Blog.
~~~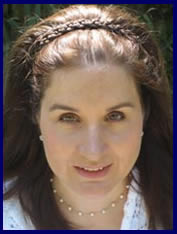 I am not sure if this is a blog about villains or about point of view.  I definitely started out planning to write about villains and why I love them.  But then I realized that what I really love is how different points of view change a story.   I adore it when I am absolutely convinced a character is evil and then the picture twists. I start to see the world through their eyes and suddenly everything isn't so black and white.
I don't know if anybody has read any of George R.R. Martins' "Song of Ice and Fire" series, but he is a champion at this.  A character will seem completely without redemption and then suddenly the reader is in his point of view for several hundred pages.  Everybody the reader assumed was good now has sinister overtones and all the evil deeds are explained.   The character still may not be a "good guy" but the reader understands and sympathizes with his every action.
I've dreamed of writing a book like this for years and thought I knew what it would be.  Of course life – and books – rarely turn out quite the way I intend.
My debut novel, A Talent for Sin, features a heroine, Violet Carrington, who was forced, by her brother, to marry an elderly man–forced not once but twice, marrying again after her first husband dies.   The book takes place years later when Violet, again a widow, takes a younger lover who wishes to marry her.  Violet is convinced that she has nothing to gain by marriage and changing her mind takes some very passionate persuading.
A Talent for Sin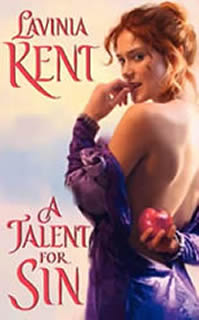 Author: Lavinia Kent
Publisher: Avon
Pub. Date: May 26
ISBN-13: 978-0061734083
384 pages
She was blessed with a gift of temptation.
Violet, Lady Carrington, possesses everything a spirited woman could want out of life. Money (and lots of it). The freedom to make her own choices, with no husband to rule her. And a delightfully attentive young lover, Lord Peter St. Johns, to satisfy her every wild whim. But Peter desires more than Violet's lascivious attentions. He's desperate for her heart—and her hand in marriage.
Yet with a toss of her russet curls, Violet refuses. A man like Peter belongs with a naïve, blushing beauty, not a luscious lady with a talent for sin, and she would rather die than be beholden to anyone. But try as she might, she cannot convince him—or herself—that their tantalizing dalliance is a mere trifle. Perhaps Lady Carrington has finally met her match—a man who will love but not control her, a man who can meet her wickedness with a fierce passion of his own . . .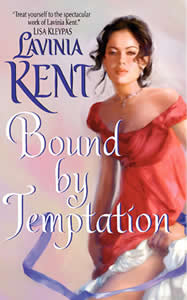 During the course of the book Violet's brother, Masters, enters the story again.  This time he is trying to force their youngest sister to wed.  He is in every sense a villain.
And then I started to write my next book.  It was supposed to be the youngest sister's story, but she made it very clear that she was not ready for true love.  She had a lot of life to live first.
And Masters – well he kept appearing and trying to explain to me why he'd acted the way he had.  (He also grew about six inches taller and developed a distinctly more muscular chest.)   The more I tried to push him back the more he insisted on being heard.
And so was born Bound by Temptation, out from Avon in February 2010, the story of Masters and Lady Clara Westington.   Lady Clara also has problems with how Masters had treated his sisters.  She's not at all sure she wants a lover who could treat any woman in such a way.  Of course that would be easier to manage if she could keep her hands off him, or if she hadn't tried to seduce him over breakfast bacon.  And that's not even mentioning awakening tied to his bed . . .
Do you have a favorite villain turned hero/heroine?  I'd love to hear. And don't forget, I'm giving away 2 copies. Just comment for a chance to win.
Lavinia Kent
~~~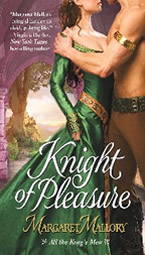 Before I offer up 3 copies of Knight of Desire readers can win by leaving a comment, I will, once again, offer my opinion on this fabulous debut. I don't normally read medievals. I'm squeamish (my own fault entirely) and they tend to have too much fighting for my tastes. But when my friend Jackie Barbosa (who is well aware of my very particular tastes)  highly recommended Margaret's medieval as one I would enjoy, I bought it the next day(I'm no dummy). Now I'm HOOKED on Margaret Mallory and her valiant knights, beautiful heroines and wonderfully compelling love stories. December can't come soon enough for me to get my hands on Knight of Pleasure.  By the way, have you seen the gorgeous cover! The cover gods indulged Miss Mallory in a most extraordinary way. 😉
Was it only me, Jackie and the editors at Grand Central who loved Knight of Desire? Nope. Check out Buffie Johnson's review (formerly of RomanceNovel TV, now with one of our contributing reviewers, The Romance Dish).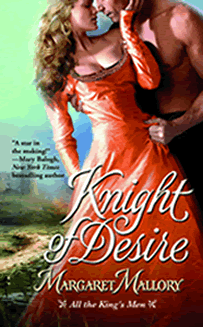 Knight of Desire
Author: Margaret Mallory
Publisher: Grand Central
Pub. Date: July 1
ISBN-13: 978-0446553391
384 pages
FEARLESS IN BATTLE

His surcoat still bloody from battle, William FitzAlan comes to claim the strategic borderlands granted to him by the king. One last prize awaits him at the castle gates: the lovely Lady Catherine Rayburn.

TENDER IN BED
Catherine risked everything to spy for the crown. Her reward? Her lands are declared forfeit and she is given this choice: marry FitzAlan or be taken to the Tower. Catherine agrees to give her handsome new husband her body, but she's keeping secrets and dares not give him her heart. As passion ignites and danger closes in, Catherine and William must learn to trust in each other to save their marriage, their land, and their very lives.
I am a romance reader who loves debut novels.  I think the reason I enjoy debuts so much is because of the possibility of finding a new author to follow.  As you all know, medievals are my first loves in the romance novel world, so when I had the chance to read Margaret Mallory's debut novel, I grabbed the book with both hands.
On the eve of her wedding to a man she neither likes nor admires, Lady Mary Catherine sneaks into the stables to saddle up her horse and enjoy her last hour as a free woman.  But what Catherine does not expect to find is a shadow lurking in the stables.  Confronted by a stranger, Catherine does what every 16 year old girl in the 1400s would do . .  . pulls a blade on the stranger and threatens his life.  Amused by the young girl's response to him, the young knight tells Catherine that he will ride along with her to insure her safety.   Catherine reluctantly agrees and the two share a memorable, yet innocent, few hours together.
Five years have passed since her wedding day and Catherine cannot believe she has survived the torturous abuse of her husband, Lord Rayburn.  But if her husband finds out she is the one who alerted the King of her husband's involvement with the Welsh rebels and the movements of the rebel forces before the King's men can capture him for treason, Lady Catherine may not face another sunrise.  Summoned to the gate of her castle, Catherine is nervous to find several of the King's men waiting.  Upon receiving the news that her abusive husband was caught and killed, Catherine drops to her knees and cries her praises to God.   But her jubilant celebration is quickly squashed as she is told the King has given her now dead husband's title and all his property to the man who defeated her husband in battle that very day, Sir William FitzAlan.  By the King's edict, Catherine has two choices.  Marry Sir FitzAlan or be taken from her home and her son and placed in the Tower.
Sir William FitzAlan is one of the King's men.  He is a knight with no home, no family (that he likes anyway), and no land.  He is an honest man among the throngs of dishonest ones.  After dispensing with a traitor to the crown, William is awarded Ross Castle and all of its land.  Being a man who hates to see women punished, William agrees to marry the Lady of Ross Castle without seeing her first.  As Catherine stands at the gate while Father Whitefield explains the King's messages to her, William is shocked to silence when he discovers Catherine is the young woman he spent an innocent evening with several years ago.  The woman he could never get out of his head or his heart.  And now she is to be his wife.
Catherine and William have a long road ahead of them.   Both must learn to trust the other with their heart and their body.   William yearns to show Catherine the pleasures of the marriage bed, but must do so with a gentle hand as her experience with her mentally and physically abusive spouse has scarred her in more than one way.   Catherine wants William to trust her above anyone else, even though he has burned by women in the past.  Trust is a hard thing to earn as it doesn't come quickly or easily.
This is a fabulous debut novel.  Margaret Mallory does a masterful job of focusing on the relationship of the hero and heroine while still having an underlying theme of treason, intrigue, and secrets which are woven intricately throughout the novel but yet never overpowering the love story.   Mallory also does a wonderful job of writing the mothering feelings of Catherine.  She is spot on with the descriptions of a mother's love and the thoughts of a mother.   Several times I found myself shaking my head in agreement with the words on the page.
I am very happy to learn that Margaret Mallory is writing two more books in the All The King's Men series.  I can't wait to read about the secondary characters from this book as many of them will make excellent heroes of their own stories.  So if you like medievals and are ready to try a new author, then this is just the book for you!          Rating:  4.25/5.00 Stars
[starrater tpl=10 style='christmas']


~~~
I'm giving away 2 (copies) of Allegra Gray's debut, Nothing But Scandal.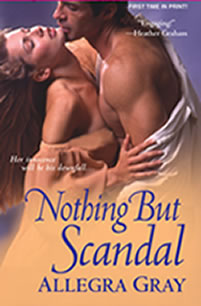 Nothing But Scandal
Author: Allegra Gray
Publisher: Kensington
Pub. Date: July 7
ISBN-13: 978-1420108255
352 pages
It all starts with an innocent proposition
When her father dies, leaving her penniless and without prospects, Elizabeth Medford is faced with a horrible future: marriage to the utterly vile Harold Wetherby. Her family thinks he's a brilliant choice, but Elizabeth has witnessed Wetherby's cruel nature and knows a life with him would be a miserable one.. If only he didn't want to marry her…but for that to be the case, she would have to have a damaged reputation, and despite her father's missteps, Elizabeth's own name is pristine among society.
So far…
Elizabeth will organize her own ruin and escape the betrothal, leaving her old life behind. The only hitch is the man she hopes will do the ruining—the irresistible Alex Bainbridge, Duke of Beaufort. Alex is no stranger to scandal. But he has secrets of his own that make Elizabeth Medford a woman he should avoid at all costs–for both their sakes. He insists he will have no part in her crazy scheme…no matter how tempting she may be…
In the summer of 2010, look out for Allegra's sophomore novel from Kensington, Nothing But Deception.

~~~
I'm giving away 5 (five) copies  each of  Lisa Marie Wilkinson's Fire At Midnight and Jackie Barbosa's Behind the Red Door (it's hot!). Comment to enter to win.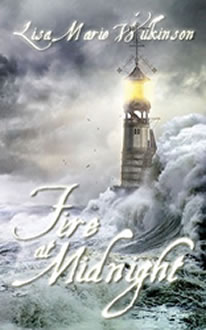 Fire At Midnight
Author: Lisa Marie Wilkinson
Publisher: Medallion Press
Pub. Date: March 1
ISBN-13: 978-1933836546
350 pages
It is 1703, and Rachael Penrose is confined to Bedlam Insane Asylum in London after discovering her uncle Victor plans to kill her brother in order to inherit the family fortune. Victor leads a gang of criminals and uses French privateer/smuggler Sébastien Falconer as the scapegoat for his crimes. When Victor spreads the lie that Rachael informed the authorities of Falconer's smuggling activities, Falconer vows revenge on the girl.
A dangerously ill Rachael finally escapes from Bedlam, only to find shelter in Sébastien's carriage, and ends up in his care. It is a twist of fate that will alter both their lives forever.
Believing she is in danger from Sébastien, Rachael meets up with his estranged twin brother, Jacques, a customs officer intent on bringing his brother, the famous privateer, to justice. But the real criminal is still at large, and she and her brother are still in danger. Will she discover the truth and save both their lives . . . and her heart?
In March 2010, look out for Lisa's sophomore book from Medallion Press, Stolen Promise.
~~~
In full disclosure, Jackie Barbosa is my good friend. That said, this anthology is not to be missed! I read it before it was in print and the writing is top-notch, the characters well-drawn, the love stories, heartfelt. It's a must read.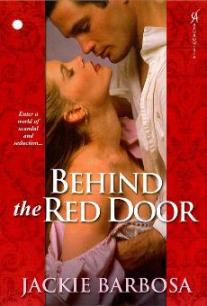 Behind The Red Door
Author: Jackie Barbosa
Publisher: Kensington
Pub. Date: May 26
ISBN-13: 978-0758234582
304 pages
Wickedly Ever After
Known for his wicked ways, the Marquess of Grenville is far from marriage material. But when Miss Eleanor Palmer tries to tell him so, she quickly finds the heat of his kiss melting her determination to say "no" into an uncontrollable desire to say "yes…"
Scandalously Ever After
Most men who visit the Red Door brothel enjoy sampling the variety of feminine delights, so Calliope is surprised when Captain Jack Prescott claims her for a week of passion. But satisfying his every sexual desire provides them both with complete carnal pleasure…
Sinfully Ever After
Lady Jane St. Clair loves her fiancé, but Gerard Nash is a notorious rake who likes adventurous women. Wanting to show him just how bold she can be, Jane masquerades as a young ingénue at the Red Door where she and Gerard experience sinfully erotic ecstasy…