I'm gearing up for next week's 2009 Debut Giveaway. We'll have debut authors blogging and I'll be giving away most of the debut historical romances that came out this year. And on Hallow's Eve, I want everyone spooked so we'll be taking a small break from historicals and entering the world of paranormals. Yes, as promised, I've added another section to the website, which has been (I believe) aptly titled A Pinch of Paranormal. Currently I have 4 (four) books each up for the months of November and December. Check out them out!
But first we must celebrate this new addition to the site must we not? So tomorrow (October 20th) I'll be giving away an advanced copy of Terri Garey's November release, SILENT NIGHT, HAUNTED NIGHT, to one lucky commenter.
Joe Bascombe is no stranger to desire, but when a sexy spirit begins haunting his dreams, he finds himself ensnared by dark passions. What he doesn't realize is that the devious demon and her two sisters, otherwise known as the Three Fates, are out to teach the woman he loves a lesson . . .

Unwilling psychic Nicki Styx survived a near-death experience to find herself able to see and hear the dead, but she only has eyes for Joe. Together they've conquered evil spirits, saved lost souls, and beaten back the Devil himself, but they're about to learn that there are more things in Heaven and Hell than they ever imagined. As far as Nicki is concerned, Joe is the man of her dreams, but now they're at the mercy of the creature who's invaded his.

It'll be a Christmas to remember . . . and it could be Joe and Nicki's last.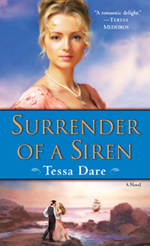 Still looking for your historical fix? For newsletter and forum members, I'm giving away a copy of Readers' Top Pick for the month of September, Tessa Dare's SURRENDER OF A SIREN. Click here on how to enter to win.
***
And for more historical freebies, visit Anna Campbell over at Romantic Crush Junkies where she's giving away 2 (two) copies of her November release, CAPTIVE OF SIN.