Today, Avon's debut historical author Sabrina Darby is joining us the blog. Sabrina's On These Silken Sheets is an anthology of four erotic novellas connected by the Harridan House, an exclusive after-hours club. If you love romance and plenty of heat in your stories, you must get this book! I read the excerpt on her website and immediately and quite shamelessly asked for an autographed copy. I love high romantic conflict, and this book appears to be brimming with it. Sigh. For me, that's the hallmark of a great romance. Anyway, I had to add my two cents now that I've sampled a little of this book and am now champing at the bit to read each and every page. So without further ado, dear readers, please welcome Sabrina Darby…
~~~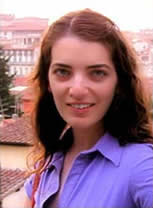 In Regency romance, we frequently write about debutantes making their first appearance on the London social scene: seducing men, flirting with danger, recklessly pursuing whatever their hearts most desire. In our modern day world, there is the Crillon Ball, and a few other local debutante balls, but for the most part, there isn't the same cache or romantic elegance associated with making one's first bow. So as a debut author, this is the closest I likely will ever get to such an experience.
I've made my bow, so to speak, on the romance social scene, where I too have flirted with danger (Twittering) and recklessly pursued what I desire (writing the story of my heart as my next project instead of waiting till I have another contract). The only men who have been seduced are on the pages of my book, although my husband might disagree. (He didn't know he was marrying a romance––erotic romance––author but I don't think he's displeased.)
However, really, it isn't me who has made my debut, it's my book, On These Silken Sheets. Those four stories have had to go out into the world, stand on their own, sell themselves boldly to people who had never heard of the collection before. They've had to contend with being the naughtier, slightly scandalous step-sister of the traditional historical, fraught with language some might call vulgar and other titillating and still others, only natural. So maybe, they would never be presented to the Queen. Or what I really mean is maybe I never would be. I'd have to be the courtesan, or the owner of a house of ill-repute, or maybe even a naughty club.
Unless, I can convince Mr. Brummell to label me "An Original," if he were alive today.
But, if I were a romance heroine, the letters I would be writing home would have to talk about all the new experiences I've had this year: the first time attending the RWA national conference, the first time seeing a book I authored in print, and the first time signing that book in a bookstore. I also experienced the particular thrill of being terrified meeting romance writers whose work I'd been reading for years and in some cases decades. It was like almost getting a nod from the patronesses at Almacks. This year I also learned that the satisfaction of seeing a book in print is a very different type of satisfaction than molding the actual story.
So I've made my bow, am wearing light, pastel colors and no fancy jewelry. Next year, however, in my second season, the neckline might go a centimeter or two lower and I'll find ways to evade my chaperone. And as for my book, I'll watch as she shepherds all future younger siblings, cousins and members of the cadet branches of the family who might choose to make their debut.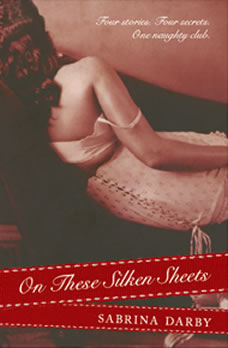 On These Silken Sheets
Author: Sabrina Darby
Publisher: Avon Red
Pub. Date: September 8
ISBN-13: 978-0061780288
400 pages
What happens in Harridan House stays in Harridan House.
It is Regency London's most exclusive after-hours club, catering to the erotic fantasies of randy lords and inquisitive ladies, each discreetly masked to guard every delicious indiscretion. Under the proprietorship of the notorious Madame Rouge, virgins, rakes, bachelors, and courtesans intimately mingle, free of the suffocating moral rules and restraints imposed upon them by good society.
Harridan House: where forbidden pleasures always take place on silken sheets.
Comment to win 1 (one) of the 5 (five) copies Sabrina will be giving away today!
~~~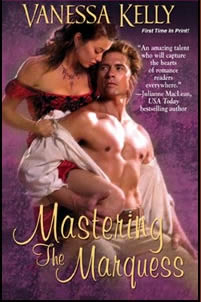 Mastering The Marquess
Author: Vanessa Kelly
Publisher: Kensington
Pub. Date: April 1
ISBN-13: 978-1420106541
352 pages
Since the loss of her parents, Meredith Burnley has contented herself with a solitary life looking after her half-sister, Annabel. But Meredith's peace is shattered when her uncle schemes to marry her off to his son in order to gain her inheritance. Desperate, Meredith has only one choice: to flee with Annable to their estranged grandparents' home. But their arrival soon reignites a family scandal – and kindles unexpected romance…
Happily reunited with the girls, Annabel's grandmother resolves to convince her nephew, Stephen Mallory, the Marquess of Silverton, to abandon his rakish lifestyle and wed Annabel. Stephen is clearly captivated – but with the wrong sister! Determined to make Meredith his own, Stephen embarks on a seduction that will leave her with no choice but to surrender to his touch…
I'm giving away 2 (two) copies of  Mastering the Marquess, so comment to win. Also, look out for Vanessa's sophomore book, Sex and the Single Earl, coming out in May 2010.
~~~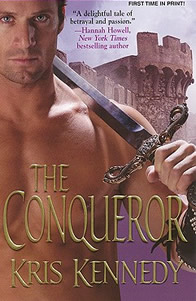 The Conqueror
Author: Kris Kennedy
Publisher: Kensington
Pub. Date: May 1
ISBN-13: 978-1420106527
352 pages
England, 1152. Henry II is king. The country is wracked by bloody civil war. Griffyn Sauvage is a valiant knight with a strict moral code of honour. But when his family's estate and vast treasures are seized, he becomes hardened by the betrayal. Now he will go to any lengths for vengeance – even if it means forming a union with his most despised enemy by marrying his daughter, Lady Guinevere de l'Ami. Then, Griffyn lays eyes on Gwyn and is completely disarmed…
As war strikes, Gwyn is left alone to fight her enemies who want control of her ancestral lands. When Griffyn comes to her rescue, she is grateful that the mysterious, brave knight has risked his life to protect hers. With each passing day, she finds herself drawn to him even as she senses he's hiding a dark secret from her. And when another dangerous adversary closes in on both of them, Griffyn and Gwyn's trust in each other will be put to the ultimate test…
Comment to win 1 of 2 copies of The Conqueror and watch out in June 2010 for Kris's 2008 Golden Heart winning manuscript, The Irish Warrior (formerly titled Wanting Finian)
~~~
Her Ladyship's Companion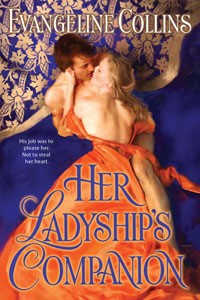 Author: Evangeline Collins
Publisher: Berkley Trade
Pub. Date: May 5
ISBN-13: 978-0425228203
336 pages
His job was to please her. Not to steal her heart.
In the Scottish countryside of Selkirk, Lady Isabella Stirling resides at Bowhill Park, serving penance for a sin that nearly ruined her family. For five years she has been condemned to a loveless marriage and confined to the estate where she does little more than tend her rose garden. With her husband absent for months at a time and few visitors, Bella lives a lonely existence, denying the passions that burn within her very soul.
Then her cousin comes for a visit and makes an outrageous suggestion: what Bella needs is a lover. A hired lover. Despite her need, Bella says no.  But soon Mr. Gideon Rosedale arrives – and he is at her service for two weeks. Indulging in what she intends to be a harmless flirtation, Bella is overcome by Gideon's intoxicating presence. And when she at last permits him to satisfy her desires, she discovers she's done the unthinkable – she's fallen in love.
Comment to enter to win a copy of Her Ladyship's Companion. Evangeline is currently working on her next book for Berkley titled Seven Nights to Forever.