Frequently, as readers, we miss a book worthy of our time and money (thankfully, for books, that is not a lot). So I will be posting Second Time Around Reviews, brought to you by three wonderful review sites who have agreed to share their reviews with us.
Today, we'll be taking a look at Christine Wells' Wicked Little Game reviewed by Barbara at Happily Forever After, to let you know WHY you should pick up this gem if you missed it the first time around. Enjoy!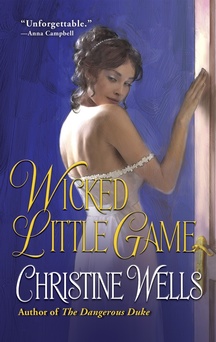 Wicked Little Game
Author: Christine Wells
Publisher: Penguin Group (USA)
Pub. Date: July 2009
ISBN-13: 9780425228487
320 pages
The Marquis of Vane hungers for Lady Sarah from afar as she braves a disastrous marriage. That is until Sarah's husband makes him an indecent offer: one night with Sarah for ten thousand pounds. Passions explode and lead to a deadly twist of fate that could spell a lifetime of regret—or love.

Okay, first I'd just like to say that I did it. I beat Vampfangirl to the review! *wicked laughter* It wasn't an easy task, mind you, lol, but well worth it. Thanks for the rec, girl, I liked this one!
My thoughts:

Handsome, wealthy and titled, the Marquis of Vane is a man who could have had any woman he wanted. Yet, for years has has silently longed for Lady Sarah Cole. However, there has always been one thing standing in the way of him claiming the one woman he desires most—her husband, Brinsley Cole.
Brinsley—knee deep in debt—makes a proposition that he assumes Vane would not be quick to pass up. He's no fool, he knows how badly Vane wants his wife and so his offer is this: One night with Sarah, in exchange for ten thousand pounds.
Hmmm….
In a brief moment of insanity, the idea of finally having Sarah seemed almost too great to turn down. But, no matter how desperately Vane wanted her, his respect and affection for Sarah ran just as deep as his desire. He turns down Brinsley's offer, but not before the urge to choke the life out of her snake of a husband overwhelms him.
Brinsley–after getting lumped up a bit–decides to turn the tables. Should Vane not accept his offer and pay the money, Sarah would be the one to suffer the consequences, and unfortunately, Vane doesn't doubt that Brinsley will follow through with his threat.
******
Sarah Cole's life was a complete disaster. Married to a man who is about as selfish and uncaring as they come, for years, Sarah has struggled to maintain a sense of pride.
Yet, no matter how bad things may be with Brinsley, Sarah can't help but feel an overwhelming guilt about her attraction to Lord Vane. A complete gentleman, Vane is everything her husband is not. To make matters worse, Sarah is fully aware that Vane shares her affections.
Her nights are spent lying in bed, longing for something she knows she could never have. In Sarah's mind, she had made an oath before God on the day she married Brinsley. She promised to honor him, and, no matter how bad things were between them, that is a promise that Sarah is determined to keep.
Showing up late one night, Brinsley starts spinning a tale of how Lord Vane had offered him ten thousand pounds in exchange for a night with Sarah. Sarah is left appalled, but Brinley continues on explaining that should she not accept Vane's offer, they would be left in near destitution. Sarah never imagined in a million years that Vane would stoop to such a level. Fully aware of just how bad their financial situation is, Sarah realizes she doesn't have much choice.
With her dignity in tatters, she agrees to spend one night with Vane. But, what no one ever expected was that the following morning Sarah's idiot of a husband would be found murdered, and Sarah, would be the prime suspect.

What follows is a tale of love and passion, and one that entailed quite possibly everything else imaginable as well, lol.
We have murder, mystery, accusations of incest, unexpected twists and turns, illegitimate children, cheating spouses, a barren wife, a blood sucking varmint of a husband, homosexuality, crazy in laws, secret love letters, blackmail….Oh and let's not forget the ten thousand pound proposition, lol.
Yeah…I think it's safe to say the author didn't hold back in the least!
This happens to be the first tale I've read by Ms. Wells and I can guarantee it will not be the last!
I really enjoyed her characters. The love scenes—hot! The tension building was phenomenal without being overly done. The pacing of the tale was quick, and I managed to read this book in one sitting. I did find that POV switches could at times be a bit abrupt. But other than that, I have no complaints.
Vane—loved him!!! So, so, so sexy. He was the epitome of a hero! He was exactly what I look for in a historical romance. Gorgeous, strong, confident, manly, gallant, very in control of his emotions—accept when it comes to the heroine. With her, he falls to pieces. I LOVE it when the heroine holds the ability to bring such a powerful man to his knees.
The heroine, Sarah, I liked her, but at times I felt like smacking some sense into the woman. Here's Vane, a guy who is like Mr. Perfect and yet, throughout the tale she is fighting with her conscience on whether or not she should give in to the constant "urge" to be with him. Get over it. You're husband was a Loser with a capital L! Vane, on the other hand—prrrrr….
All in all, I thought Ms. Wells did a wonderful job with this story!
My rating: 4 1/2 stars
[starrater tpl=10 style='christmas']