Katiebabs is back! Yes, and today she's chatting about six lovely covers that caught and held her attention. Let the visual feast begin!
~*~*~
One of my favorite things to post are new upcoming books and their lovely covers. I love to promote authors and their books that may be under the radar or ones you may not have heard of.
Here are a few books with such wonderful eye catching covers that makes me want to mark these down for my future TBR (to be read) pile:
Coming December 1st from St. Martin's Press: Seducing the Heiress by Olivia Drake.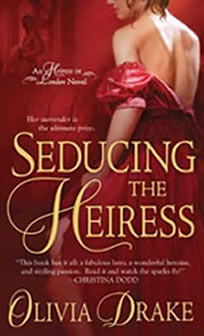 Her wealth and beauty have made Miss Portia Crompton the catch of the season. Secretly determined to wed the maharajah's son she left behind in India, Portia ignores the money-hungry bucks who ply her with bouquets and bonbons. But one suitor will not be deterred: Colin Byrd, Viscount Ratcliffe. He is persistent and presumptuous—and wickedly tempting.

Colin has no delusions about romance. He's a rogue, a womanizer, and a murderer, and seduction comes as easily to him as breathing. Portia's fortune is an irresistible lure until Colin's mercenary scheme hits a snag. Winning her dowry is no longer enough—he wants her heart and her passion.  The more adamant she is in her refusal, the more determined he is to seduce her…
Why do I like the cover? I really like the red color of the background and how it matches the dress. There's something I find so appealing in how the dress is pulled down halfway so we can see her back. A nice touch of subtle sensuality.
~~~
Coming December 1st from Berkley: Mistress by Mistake by Susan Gee Heino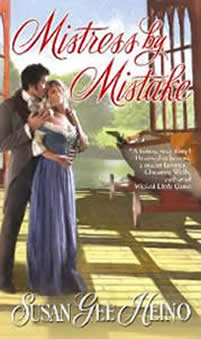 Lord Dashford has decided to ward off the marriage-minded by convincing the world he's throwing away his fortune. No matter, since heiress Evaline Pinchley, dragged to the Dashford estate, has no inclination to marry him.

Unfortunately, she fails to recognize her host when he begins to seduce her. An empty bottle later, Evaline wakes to find herself in Dashford's bed. Now rumors and passions are sure to run wild-unless Dashford and Evaline realize that what happened by moonlight was no mistake.
Why do I like the cover?  The cover has a nice shot of two lovers near a lake, sharing their passion for one another. I love how the hero is very "buttoned up" with his cravat still tidy but the woman in his arms looks a bit mussed from her hair to the bodice of her dress that with one tug, it would fall and his hands would be full with quite a bounty of her bosoms.
~~~
Coming January 26, 2010 from Avon: Charming the Devil by Lois Greiman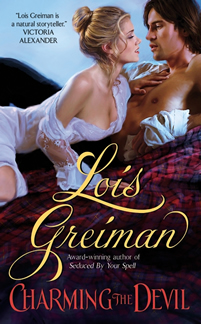 Faye's special talents have made her a valuable commodity. But she's sick of being used. That's why she feels so lucky to have found a refuge at Lavender House. Finally, she gets to decide how her skills will be applied. Sure, everyone thinks she's too young to handle any big missions. But whatever she's assigned, Faye is determined to prove her worth–even if it means facing down a giant of a scot named Rogan MacBain.

Scottish warrior Rogan arrives in England to investigate the death of his cousin. What he doesn't expect is to be thwarted at every turn by a slip of a girl. Intrigued by her persistence, Rogan soon realizes that he'll need her help to succeed in unfamiliar London. Using all his persuasive talent to convince Faye of his innocence, Rogan and Faye team up to discover who is behind the recent deaths befalling noblemen. Along the way, Rogan soon discovers that he has much to learn about life and love–and Faye knows she's just the one to teach him.

Why I like the cover? For once it looks like the woman is doing the seducing and from the man's face, he looks a bit concerned but interested. And both show a bit of cleavage but the man has more skin showing than his scantily dressed lover
~~~
Coming January 26, 2010 from Brava: In This Warrior's Bed by Mary Wine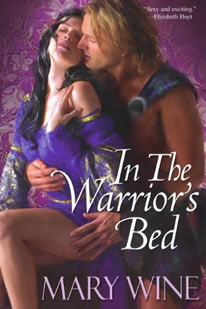 Cullen McJames will not have his honor sullied, certainly not by his clan's nemesis Laird Erik McQuade. So when McQuade tells the Court of Scotland that Cullen has stolen his daughter's virtue, Cullen steals the daughter instead.

Since his brother wed a fetching lass, Cullen's been thinking he too needs a wife. A marriage could end the constant war between the clans. And looking on Bronwyn McQuade but once has put her in his dreams for a week…

But Bronwyn won't go quietly. She won't be punished for what she did not do. Nor is she eager to live among the resentful veterans of McQuade wars. And however brave and beautiful a man Cullen may be, he has much to learn about a woman's fighting spirit. But as Bronwyn will discover, he has much to teach her as well…
Why I like the cover? I find it so sexy for the man to have his hand caressing the woman's naked leg. Their embrace seems to be very passionate and it looks like the woman is have a fun time in his arms.
~~~
Coming March 30, 2010 from Forever: A Touch of Scandal by Jennifer Haymore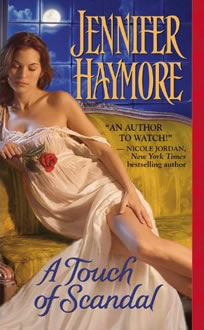 The last thing Garrett, Duke of Calton, expects to find while tracking his sworn enemy is the delectable, mysterious Kate. This beautiful servant girl rouses a longing the battle-scarred ex-soldier had never hoped to feel again. But when she turns out to be the sister of the man he seeks, he's convinced he's been betrayed.

Kate knows her duty to her family, yet how can she ignore Garrett's powerful pull on her heart? Or the heady temptation of his stolen-and sizzling-kisses? Scandal has followed the duke since the war. Now the greatest shock of all is on its way-the one that can separate Garrett and Kate forever.
Why I like the cover? I really like the dress and how this woman seems to be dreaming of her lover, who may or may have not given her the rose she's holding. She looks some what vulnerable and innocent at the same time even with the strap of her dress falling off her shoulder.
~~~
Coming May 25, 2010 from Bantam: His At Night by Sherry Thomas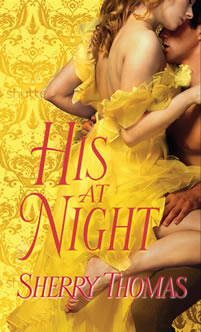 He is England's most foolish lordling. She is a very desperate young woman—and still not desperate enough to want him for a husband. But Fate has a way of upsetting the best-laid plans and Elissande finds herself married to a man whose vast idiocy makes her teeth hurt—from clenching them so hard!

But is Lord Vere really a hopeless cretin, or has Elissande accidentally married the one man who keeps his secrets as well as she does hers? And once Lord Vere gets over his shock of being shackled to a young lady who seems to be everything he doesn't want—if only he could stop desiring her madly—will he discover that she is the one who holds the key to his long-locked heart?
Why I like the cover? This is one of the brightest covers I have seen in a while and because of that it is very eye catching. The couples' embrace is very sexy and by the woman straddling the man, she seems to be in a position of power.
What about you? What's your favorite kind of cover? The clinch? A bare back woman? A man with a sword? A great looking guy? Do you prefer photos or artist renderings?

~*~*~
VEEERY NICE! She has great taste doesn't she? And so can you. Okay, that didn't come out right. *grin*  What I meant was that THE SEASON is holding its first annual Best Historical Covers Contest and your votes will decide the winner. Preliminary voting is going on now and ends November 15th. The top 20 covers go on to the finals. Let's show our appreciation to the art department at all the publishing houses–yes, by finding the best of the best. So, if you haven't voted, stop by and vote now!!! (Okay, after you've answered Katie's question would be soon enough).