Okay, we have a WHOLE LOT of winners today, and I love delivering the news.:) That's the big perk of doing this post.
I'm going to start off with the winners of the Pitch Contest. And when I say winners, I mean more than just two. Peter and Kevan didn't just stop at giving out the one page 25 page critique, they requested partials and one full. YAY!!! Let's start with Kevan.
The winner of Kevan Lyon's (Marsal Lyon Literary Agency) 25 page critique AND a request for a partial and synopsis is…

Timeless – Brynna James
Listen To Your Heart – Miranda Liasson (partial and synopsis requested).
The winner of Peter Senftleben (Kensington Publishing) 25 page critique AND a request of the FULL manuscript is…
A Most Unusual Lady – Kathleen Bittner Roth
A Pocketful of Ashes – Kat Sheridan (request for a partial and synopsis)
Courting Scandal – Sarah Tormey (request for a partial and synopsis)
Listen to Your Heart – Miranda Liasson (request for a partial and synopsis)
I want to congratulate these talented women and thank everyone who participated in the Pitch Contest. I truly hope a contract comes out of this. 🙂
~*~*~
Now for the 10 winners who will all receive an advanced copy of my debut, SINFUL SURRENDER…
Laurel McGohon
Ezrah Marisse Lasola
Vikki Wright
Margay Roberge
Danielle Yockman
Elaine Carlini-Davis
Theresa Norris
Therese Boyd
Lily Woo
Sandra Polojac

Congrats ladies, I hope you enjoy my first book!! I'll have the books in the mail to you next week. For those who didn't win, I still have another contest running until January 19th. If you have pre-ordered or already bought the book–as you see from photo below, there are have been early sightings at Walmart–( it's my first book, I'm very excited *big grin*) , you can enter to win a $25 Visa Gift Card (I'm giving away 2). Entry information is posted here.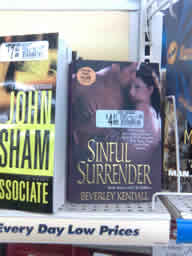 ~*~*~
The winners of Tracy Anne Warren's TEMPTED BY HIS KISS and SEDUCED BY HIS TOUCH are…

Phyllis Campbell
Chris Mead
The winner of Lori Brighton's WILD HEART is…
Sarah Louise Keery
~*~*~
And last but certainly, not least, the winner of the Christmas Basket (of which there were TONS of entrants) is…
Jennifer Zwagerman
Congratulations Jennifer!!! I will have this HUGE prize out to you as soon as I can. I'd like to thank everyone who entered to win.
I hope this post has started the winners' day and this Christmas Eve off to a good start. 🙂
The Season wishes you the best of Holidays and a Blessed 2010.
Bev