We are now officially on the  3rd business day before the release of my debut romance, SINFUL SURRENDER. For me, this is a dream come true. Sometimes I want to pinch myself. It's finally happening, I'm going to be a published author.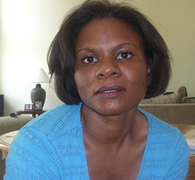 SINFUL SURRENDER is my first attempt at writing a historical novel. Oh, I'd been reading them since my teens, but I just knew I couldn't actually write one. Too much research, and there was that thing about having a 'historical voice'–did I even have one? But in June 2006 after not having written in over a decade, I remembered my dream of being a writer. I WANTED TO WRITE again. I started with what I knew the best, short category. I wanted to write for Harlequin. But I'd tried to write several short category novels at the age of 19 when I was in college. I almost completed  one and the others didn't rack up page counts of more than 40. This time, I promised myself, would be different. I was going to actually FINISH.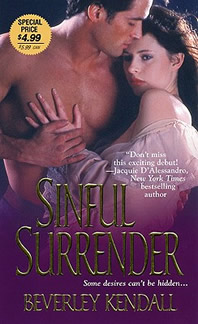 I started 2 stories and didn't make it past the first chapter. Then I remembered my LOVE of historicals; Johanna Lindsey, Catherine Coulter, Virginia Henley, and Karen Robards. That was just about the time I stumbled across the Avon Fanlit Contest. Oooeeeewwww, I could vote for several sub-genres, Regency included. I voted for Regency and it won. For the next 6 weeks, I threw myself into writing chapters (1500 words each) for this contest. Oh, I never finaled or anything like that, but it showed me I had a half decent 'historical voice' and more importantly, I LOVED writing historicals. When the contest ended, I bought tens of historical research books and threw myself into research for a solid month, determined to conquer the Victorian-era. On November 1st I started the first draft of SINFUL SURRENDER (initially titled An Honorable Rogue) for NANO. I completed the first draft January 5th 2007. It was the first manuscript I'd ever completed. I was overjoyed! On September 4th of 2008, after having sent Hilary Sares the manuscript February 2008, I sold SINFUL SURRENDER to Kensington.
But I didn't get there alone. I had some really wonderful friends who contributed to critiques and who constantly encouraged me. To my friends from Fanlit Forever, Alice, Christina and Kelly, I will be forever grateful for your critiques and support. To the Manuscript Mavens who put my first query through the wringer, thank you for an eye-opening and learning experience. To Barb who not only helped me with my query but who was the first person to ever mention the term GMC to me, thank you for filling me in, and the large revision task that nugget of information provided!
Last but certainly not least my heartfelt thanks, love, and friendship goes out to my two CPs, Anastasia and Mary, and my family, who always told me I could do it, and whose faith in me and my abilities NEVER EVER wavered.  I can never thank you all enough.
So to celebrate my coming release, every business day from now until, the release date, January 5th, I will be giving away a copy of SINFUL SURRENDER and some other wonderful gift I know you will enjoy. Today, a random commenter will also receive a copy of Courtney Milan's much anticipated and highly praised debut, PROOF BY SEDUCTION.
~*~*~
Proof By Seduction
Author: Courtney Milan
Publisher: HQN
Pub. Date: January 1, 2010
ISBN-13: 978-0373774395
345 pages

She is his last chance for a future of happiness . . .

Jenny Keeble has never let her humble upbringing stop her. She's made her way in the world as a fortune teller, one who convinces her clients her predictions are correct by telling them what they most want to hear. Business is good… until she meets her match in the form of Gareth Carhart, the Marquess of Blakely, a scientist and sworn bachelor.

He just doesn't know it yet.

Broodingly handsome, Gareth is appalled to discover his cousin has fallen under the spell of "Madame Esmerelda," and he vows to prove her a fraud. But his unexpected attraction to the fiery enchantress defies logic. Jenny disrupts every facet of Gareth's calculated plan— until he can't decide whether to ruin her or claim her for his own. Now, as they engage in a passionate battle of wills, two lonely souls must choose between everything they know . . . and the boundless possibilities of love.
Comment to win a copy of SINFUL SURRENDER and PROOF BY SEDUCTION, 2 January Debuts!!! Winners will be announced January 5th.

Come back tomorrow when the Bonus Gift will be a DVD of Pride and Prejudice.