I have to say, one of the best things about having THE SEASON sites are all the giveaways. I LOVE winning stuff. Hey, I think that's pretty normal, right? Then it's not surprising that I love making winners out of people. Since I LOVE books, both reading and writing them, this is the perfect venue for me. That said, the Christmas Basket Giveaway has launched. The entries are pouring in. I have to say that out of all the giveaways I've held, this is the one I wish I could enter. I mean seriously, 38 books and chocolate!  That's like pure heaven to a reader. If you haven't entered yet, click here to go to the entry page. All it takes is a simple email.
Oh, I should have mentioned this first, the January/February issue of the Season is now available online. It was touch and go if I'd be able to launch it in time. I had a proposal that took absolute precedence. But I did, and I'm pretty happy with the way it turned out. If you haven't had a chance to browse the issue, here's the link.  You'll notice I added a Calendar of Events page, which is as much to help me as to inform visitors what's going on where and when. I also gave the Free Reads a page of its own. I think a book cover will attract more readers into sampling the stories. I guess I'll see whether I'm right or not.
Another note, I will be announcing the winners of the Pitch Contest December 24th.
Lastly, but not least, I'm giving away 10 advanced autographed copies of my debut, SINFUL SURRENDER. You might have noticed it on the site and the blog a time or two (grins broadly). Apart from that giveaway, I'm holding another one as a heartfelt THANK YOU to all the people who have already ordered the book. Those pre-orders can make a big difference on how well a book does. So for all you readers who are so willing to take a chance on my book, I wanted to do something special for you. In this contest 2 (two) winners will win a $25 Visa Card, and since you're already getting a copy of my book, you will also win a December or January release of your choice. You can find entry details for both contests here.
Before I go, I thought it would be fun to post the query that sold SINFUL SURRENDER. As a writer, that sort of stuff always interested me when other writers sold. I, personally think, it tells a slightly different story than the back blurb, but then again, I'm completely biased, so what do I know. In any case, it caught Hilary Sares eye and that's what counted because she requested the full literally twenty minutes after I emailed the query to her. Then on September 4, 2008 she called me and told she wanted to buy the book. THANK YOU HILARY and thank you Barb for always helping me polish up my queries. 🙂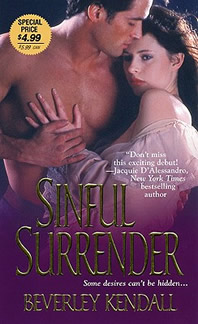 SINFUL SURRENDER QUERY
Lord James Rutherford fights the inexorable demise of his bachelorhood with every sane bone in his body. But the single-minded pursuit of the delectable Missy Armstrong entering her fourth London Season proves his undoing. Just as he's decided to risk the wrath of her brother—his friend—and right the wrong of their indiscretion, James discovers the consequences of a forgotten night of drunken passion has left yet another lady of ton compromised.
For Millicent 'Missy' Armstrong, being ruined by the man of her dreams is nothing to wring her hands and bury her face in her hands about.  But when an offer of marriage isn't immediately forthcoming, and whispers of James's betrothal to another—and pending fatherhood—reaches her ears, there isn't an acre of land on the Continent far enough on which to escape. Then, in an abrupt reversal, James is back on her doorstep with the offer she'd yearned to receive…two weeks and one woman too late.
In the face of her unwavering refusal, James launches a war to win back her passion, her trust, and her love. A war as ruthless as it is seductive. With the wounds of her heartbreak still fresh and raw, can he convince her that far from the second choice, she has always been the only choice for him?
And that is James and Missy's story in a nutshell. 🙂