Five Things You Didn't Know About Tracy Anne Warren
1. Tracy Anne's first spoken word was kitty.
2. When Tracy Anne was a young child, she had an imaginary Japanese friend named Tennimoto. As an author, she now has lots of imaginary friends.
3. Tracy Anne's favorite color is purple.
4. Tracy Anne has a minor in Spanish and spent a college semester studying abroad in Toledo, Spain.
5. Tracy Anne once worked selling ladies handbags in a major department store. She quit after one month and her aching feet thanked her.
Now you see, I didn't know any of this about Tracy. Seriously, her favorite color is purple? What kind of color is that (Prince fans, please do not email to protest)? And imaginary friends, Tracy? Which child has those? This is a whole side of Tracy I never knew and I must say, I'm a bit shocked.(Bev says this with a VERY straight face)
Seriously though, I'm champing at the bit to read several books in January and Tracy's AT THE DUKE'S PLEASURE is definitely one. I don't know about you, but I LOOOVVEEE a hero who appears to be all about propriety, but is sooo not.  I've already devoured the first three chapters in Avon's Browse Inside on their website, and I can't wait to get it so I can finish (foot tapping impatiently).  In case you haven't heard a word about it, here it is.
~~~
At The Duke's Pleasure
Author: Tracy Anne Warren
Publisher: Avon Books
Pub. Date: January 12, 2010
ISBN-13: 978-0061673429
384 pages

Edward Byron, Duke of Clybourne, has everything a man in Society needs…except a wife. Duty requires he wed, so he decides that a long-standing arranged marriage will do nicely. He knows his bride is beautiful, biddable and bright enough to run the his household and nursery. He expects his betrothed, Lady Claire Marsden, will be thrilled with his decision— unfortunately, she's not!

Claire has longed for Edward since she was sixteen, but how can he expect her to agree to his proposal when he barely knows her and doesn't love her? Nothing will convince her to accept a loveless marriage. And so she begins a battle of outrageous resistance, forcing Edward to learn that he must lose his heart in order to win his bride.
So, for those of you who haven't yet read TEMPTED BY HIS KISS and SEDUCED BY HIS TOUCH, the first two books in the series, Avon Books is giving 2 sets away. You don't HAVE to have read the first two books, but if you're like me, if I know a book is part of a series, I kind of like to read them in order so I can get acquainted with the whole cast of characters.
~*~*~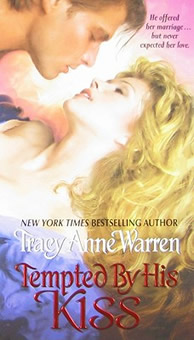 Book One: TEMPTED BY HIS KISS
Release Date: February 24, 2009
Orphaned beauty Meg Amberley never planned to pose as Lord Cade Byron's fiancée. Caught in a snowstorm, she takes refuge at his estate. Stranded together, Meg soon finds herself falling under Cade's spell. When the roads clear, she intends to leave, but fate intervenes.
Haunted by his past, Cade Byron has buried himself in the country. Then Meg—with her lush curves—invades his house and his life. With her reputation compromised, he proposes a pretend engagement and a London season where she can find a husband.
But as their charade deepens, Cade can't let her go . . . vowing to tempt her with a kiss that just may lead to forever.

~*~*~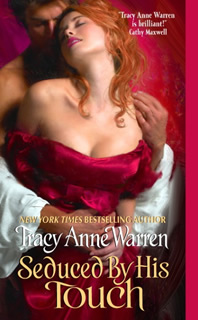 Book Two: SEDUCED BY HIS TOUCH
Release Date: August 25, 2009
Lord Jack Bryon is famous for his impressive physique and wickedly seductive charm. He never has a shortage of female companionship, but he knowingly keeps them all at a certain distance. As the third son in a noble family, Jack's place in society is secure, but he is not in possession of unlimited wealth. Perhaps this explains his reputation as one of London's most gifted gamblers. Lord Jack knows the rules of the game, and he always comes out on top—until he takes on wealthy merchant Ezra Danvers. When Jack loses big and can't afford to pay, he finds himself at the mercy of Danvers, who will forgive the debt on one condition: Jack must marry his daughter, Grace.
Grace Danvers may be 25 years old, but she is by no means a typical "spinster." She believes herself to be too tall, and too plain, and has consequently dismissed the thought of marriage. She is a talented artist who lives a fulfilled life without a man. Grace would never agree to be the "prize" of a bet—which presents quite the challenge for Lord Jack. He must find Grace and make her fall in love with him, but never reveal his true motivations.
Do you have some questions for Tracy? Perhaps there's another five or so things we don't know about her. If so, ask away, she should be dropping by the blog today. Those pesky deadlines. I hope she can get away.