As you can imagine, I'm super busy. But fear not, I haven't forgotten my visitors and The Season Blog while I'm touring. 😀
I have 2 (two) books up for grabs today. Hope you enjoy them!
~*~*~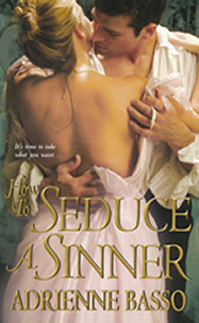 How To Seduce A Sinner
Author: Adrienne Basso
Publisher: Kensington/Zebra
Pub. Date: January 5, 2010
ISBN-13: 978-1420104332
352 pages
Dorothea Ellingham is waiting for the man who can ignite a spark of consuming passion with just a kiss. For when that happens, she'll know she's found the one. But after three suitors miserably fail her test, she's about to lose all hope until she lays eyes on Carter Grayson, Marquess of Atwood. His devilish good looks and charm send her pulse racing – and when he kisses her, she finally finds what she's been craving . . .
Carter Grayson is in no hurry to wed. But when he meets Dorothea, he's captivated by the urgent need she sets off in him. Knowing he must have her, he proposes. But as they soon discover, a union forged on passion alone is never enough-and explosive desires can often lead to love…
~*~*~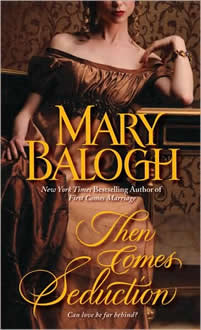 THEN COMES SEDUCTION
Author: Mary Balogh
Publisher: Dell
Release date: March 24, 2009
ISBN-13: 978-0440244233
400 pages
Jasper Finley, Baron Montford, had never lost a wager until he met Katherine Huxtable. But when he bets his friends that he can successfully seduce Katherine, after their first meeting, he not only admits defeat but also patiently listens to Katherine as she verbally decimates his character, then sends him on his way. When the two meet again three years later in London, Jasper finds he is still intrigued with the beguiling Katherine, so he proposes another wager: he will make her fall in love with him. Katherine knows the smart thing to do is to send Jasper away once again, but somehow she finds the idea of romance with a dangerous rake irresistible.
Just comment to win!!!
Come back on Monday, when Sourcebooks will be giving away 10 copies of Robyn Kaye's BREAKFAST IN BED (one of my favourite storylines). To check it out, click here.