Please extend a warm welcome to Chloe Harris, our guest blogger today, whose steamy debut historical, SECRETS OF SIN, releases January 26th. She'll be chatting about some favourites on her 'keeper shelf'.
~*~*~
First I want to say a big thank you to Beverley for liking my idea and letting me guest blog at The Season.  I hope this will be the first of many posts where authors and readers talk about the Historical Romances on their "Keeper Shelf" and why they love them enough to call them keepers.
Teresa Medeiros has a large section on my keeper shelf including A Whisper of Roses, Heather and Velvet with its collectible Fabio cover and the book I'm talking about today, Thief of Hearts.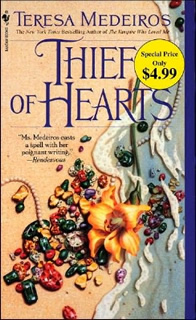 All the books on my keeper shelf have golden lines or golden moments that even after years and years still stick out in my memory and have a place in my heart. Like in Madeline Hunter's The Seducer when  Daniel St. John talks about how after spending most of his adult life in England he knows in his heart he's French because he dreams in French. *Sigh* Or the golden line on page 20 of Thief of Hearts that stole my heart right away. They all shine like gold in my memory.
Before I continue about Thief of Hearts, you need to understand that like many women I'm not fond of my hair in its natural state. Please take into account that I first read this book just after publication around late 1994 or early 1995. If you're old enough to remember, the look in the 80s and early 90s in much of the US was long curly and big. I spent all of my teens and a good part of my twenties not to mention a small fortune perming and lamenting my stick straight hair.
I never found anything good about that fact at I was born with such awful hair until page 20 of Thief of Hearts where Captain Doom, the most feared and despicable pirate since Kidd, looked at Lucinda Snow's hair and observed "It streamed down her back in a fall of ash-blond silk, unmarred by a single frivolous curl."
Did you get that? "Unmarred by a single frivolous curl." I was in shock for a moment. Curls are frivolous? And did he not also refer to them as marring?  Unbelievable. Could it be that the hair I'd been born with (which is also blond but not near ash) is a good thing? Something a hero would find admirable? Well that was it for me. I was in love with Captain Doom at that second, reprobate pirate or not.
But whether your hair is straight or curly, blond, black, brown or red there is a lot more to love about this book. Like that fact that you get two heroes for the price of one; the dashing pirate and the strong protective bodyguard.  After Lucy survives being kidnapped and kissed by Captain Doom, her father, Admiral Lucien Snow, hires Gerard Claremont to protect her. But little does he know, Gerard is much more than he seems and has much more in mind for the Snows. Poor Lucy is torn between the fantasy of the pirate and real man right in front of her.
I'm a sucker for certain romantic tropes and Thief of Hearts has one of my favorites. Forced proximity always seems to push my autobuy buttons. Between being kidnapped more than once and being stuck with a bodyguard there is no shortage of close quarters to spark tension between the hero and heroine.
I could go on and on forever about how lushly descriptive the language is, how relatable and strong the characters are, or just how much fun the story is but I'll stop here and let you read it for yourself.
The books on my keeper shelf helped to inspired me to become a writer and I'm proud to say that my first book, SECRETS OF SIN will be out on January 26th.

And even better than that, Beverley has 3 advance copies to give away! Leave a comment about your favorite golden line or favorite forced proximity romance for a chance to plunge into a world of charmingly wicked sea captains, dazzling strong women, warm exotic locales and deliciously sinful secrets.
Noelle is half of the team of Chloe Harris along with her writing partner Barbra. Noelle is a quintessential eccentric southerner that seems to find a story in almost everything. Learn more at www.authorchloeharris.com.
~*~*~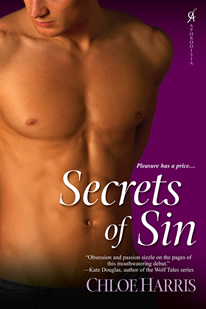 Secrets of Sin
Author: Chloe Harris
Publisher: Kensington/Aphrodisia
Pub. Date: January 26, 2010
ISBN-13: 978-0758238535
320 pages
THREE DAYS… ENDLESS PLEASURE
On a Caribbean island of alluring delights, Emiline du Ronde-Barhydt commands a large estate, vast wealth, and unwavering devotion. Her inheritance and dazzling beauty ensure that she's granted her every wish… or almost. The one thing she can't get is freedom from her proud wayward husband.
When her husband, sea captain Reinier Barhydt finally agrees to give his determined wife the divorce she craves – it's for a price: three days of total submission to his every erotic demand. Both fall under the spell of the most forbidden sensations that reignite every delicious inch of their bodies… and Reinier soon realizes that he is no longer master of his carnal game. At the mercy of his own raw shattering needs, the three red hot days may just turn into a lifetime of smoldering passion…