Tomorrow SINFUL SURRENDER will be officially released into the wild. It's still hard to believe. It's a day I never thought would ever come and then seemed to be coming too quickly, and I wish I were more prepared. Regardless, it's a great feeling, all the excitement and anticipation of Missy and James's story finally meeting the reading public. Of course I'm nervous to hear what readers and reviewers alike have to say about SINFUL SURRENDER. I'm terrified that no one will buy it. But I'm also so proud of this story and so happy I wrote it, and that it will forever be my first. 😉
I've included my picture once again not because I love it so much. No I included it because of the subject matter of today's post: Writing Outside Your Race.  The picture punctuates the point that I am a black woman and my characters are white.
No one had every asked me about the race of my characters until this summer at the RWA National Conference in DC. Who asked? A very lovely woman who used to work for Publisher's Weekly. She was the first. Then I kid you not, an hour later a reviewer from a very popular blog asked the same question. Then just recently, one of my chapter members (who I might add is black) emailed me and posed the question to me this way, "What's up with your cover?" Now I can only surmise that people who see me and discover that am a romance writer assume that I write about black protagonists. The cover of SINFUL SURRENDER tells the real story. But is that a problem that I chose to write outside my race?
For me, this wasn't even a decision. I never once sat and debated when I decided to write a historical, should I make the hero and heroine black? Why? Well, I think a large part has to do with the genre: historical. As a black person, I know the history of my people. I understand what we suffered and our struggles, however, I don't want to write about it. That isn't the material I would go to when I sit down and want to escape into a good romance. Writing about blacks in the 19th century makes escaping the reality and cruelty of slavery, prejudice and discrimination unavoidable. When I write romances about black protagonists, I want them to have all the freedoms I enjoy now. I want them to be able to wealthy, respected, free, and capable of achieving everything the next man can.  Now if I were writing a fantasy or something like that, I could conceivably invent a new history for blacks and exclude everything I don't like (ie. slavery). But I write historical romance and our history is indelibly etched in the annals of time. It's not pretty and it's painful for me to think about, much less read or write about.  I don't think I'm burying my head in the sand, I just want the time I set aside to escape and enjoy a good romance to be just that for me. A pleasant escape.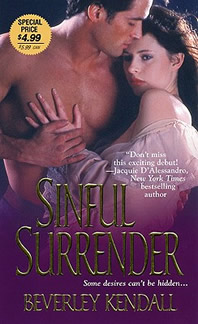 I grew up in the fairly small city of Barrie, Ontario in Canada. I was usually the only black in my classes, my family one of only two black families in the entire school. I grew up reading everything from Henry & Beezus (Beverly Cleary), Trixie Belden, Nancy Drew to Agatha Christie, Anne Mather and Janet Dailey. Where I grew up, I can't remember seeing one book that featured a young black protagonist. But even at a young age, I never questioned that. I could see the way things were. For a mostly white population, why would there be stories about black children, black people? Don't your write about what you know? Write about people like yourself?
Well I continued to read and when I branched out to historical romance, I read Johanna Lindsey, Catherine Coulter, Virginia Henley, and Karen Robards. These authors' stories were my influences. And from these stories I sorted out what I liked and didn't like. I discovered that I liked–loved–reading about stories where the relationship was the biggest issue. Their struggles weren't about where they could live, who would burn down their house because of racial prejudices, be they black or Native American. I didn't want to read about a couple struggling financially and that being the cause of most of their strife–I've seen that enough in real life. I know there are people who like the Oprah-type books, where protagonists must overcome insurmountable odds to finally triumph in the end. That's not why I pick  up romances. Their triumph needs to be about love. (I'm like that, romances need to be about ROMANCE, mysteries should be about MYSTERY–I don't need romance in my mystery–and suspense, same thing).
Will I make an effort in the future to have a mixture of nationalities, races, and differing social classes within my stories? Yes, I will. They may not be the leading characters, but to exclude them completely, to me, would be wrong. I do feel a responsibility as a black woman to write about my own race. It should be my first inclination, shouldn't it? I feel a sense of guilt that I have not. But I am also conscious that in the genre that I write, it would be a difficult book to sell. Beverly Jenkins is one of the few black historical romance authors that I know, who has successfully managed this, and I completely respect her for that–she's also a very lovely woman personally. However, for now, while I will try to test the boundaries of the historical genre, I will continue to write the kind of stories I want to read, and in time should I be fortunate to branch out into contemporaries, I hope to write about the protagonists I never read as a child, and the world as I  want it to be.
Wow, even that felt way weighty to me, but it's a topic  I needed to post. 🙂
So what do you think, is it acceptable to write outside of your race? And would you or have your ever read books where the protagonists are of a different race?
Since Lisa Kleypas is currently the  historical author who influences me the most, I'm giving away the  entire set of her WALLFLOWER Series. Comment to win.