HAPPY NEW YEAR!!!!!
I'm going to make this post very brief, it is, after all, a holiday.
I wanted to take a moment to talk about some of the friends I've made along the way–this road to publication. After the Avon Fanlit ended, Chris Jacobs invited  everyone to join a forum she created called Fanlit Forever. 🙂 Many ex-Avon Fanlitters joined. Many dropped off shortly afterward, but there were a dedicated number of us who remained and were very active on board. I was one of the ones that stayed active for awhile. This group consisted of some of the bottom 503 of Avon Fanlit. None of us had ever finaled in the contest, none of us were even close to publication. What we all wanted to do was write.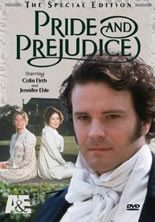 What I really loved about this group of women was they accepted everyone, regardless of accomplishments, regardless of writing skill. I was so happy to find a group that literally opened their arms to me. At that time I didn't have a contract, I didn't have an agent, I hadn't won anything, and they liked me anyway. And the feeling was very mutual. Anastasia, Christina, Laurie, Kellye, Alice and Kelly, thank you for being exactly who you are. If I never, ever told you before what that meant to find a 'writing home' after Avon Fanlit, I'm telling you now. It meant A LOT. Writing can be a very lonely existence and it would have been even more so for me in that year that followed Avon Fanlit if I hadn't had Fanlit Forever to go to. THANK YOU.
Huge Hugs
So, now that I've finished blubbering, who wants my favourite Jane Austen movie, the Pride and Prejudice DVD?

Come back on Monday, January 4th, when the Bonus Gift will be Lisa Kleypas's Wallflower Series.