What's going on around the blogisphere and other parts of the web? Good question.
Did you know hear about Laredo, TX? On January 16th it became the largest US city (250,000) without a bookstore. When I heard that, I shook my head in utter disbelief. I mean, is that even possible. I, personally, would expire without a bookstore near my house. Darn it all, I NEED MY BOOKS! So now how far do you think the closest bookstore is? Try 150 miles. Eeeek, I love my authors, but I'm not driving 150 miles to buy their books.  The Wall Street Journal did this article on their plight if you'd like to read more.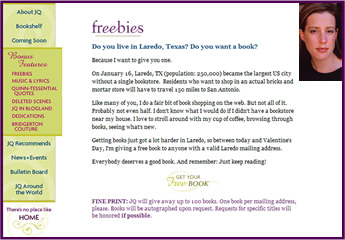 So we have a problem with no immediate solution in sight. What can we do? Well, I'll tell you what New York Times Bestselling author Julia Quinn is doing to give back, from now until Valentine's Day (February 14th) she's giving readers with valid Laredo, TX addresses her books for FREE!!! Click on the thumbnail to find out all about it.
Of course Julia's generosity got me thinking of what The Season could do. I mean we're (who is this we I'm referring to I wonder) all about books here right? I can't do it on Julia Quinn's scale but, to anyone with a valid Laredo, TX address, I will send a book from my stash here. One book per mailing address with a maximum of 10 books.
Seriously, what we do without our books? Speaking of books, tell your favourites–authors, titles, series, genres. What's on your 'keeper shelf'? And who is flying under the radar–authors or books we're missing out on?