I am on page 171 of VIKING IN LOVE. My intention was to have it read before I posted about it today. Alas, that didn't happen. But I can tell you this, as I'm approximately half way through the book, I'm thoroughly enjoying it.
I confess, I approached this book cautiously as I'm not one for medievals. I opened the book Sunday night and saw 935 A.D. and thought, 'Oh dear Lord, this is waaay earlier than I ever expected.' I seriously didn't know what to expect as I've never read Sandra Hill before. Well to say I was happily surprised would be a mild understatement. I absolutely love how she begins this book. Her cast of characters couldn't be more amusing. I honestly never thought I was going to laughing this much–laughing at all–when reading VIKING IN LOVE. And believe when I say this is the good kind of amusing, not the insipid silly. Of course, I'm wondering about her backlist. Are they all this good? Where should I start after I finish this one? And boy do I hope I love the last half of the book as much as I love the first. I've got this chant going in my head, "Sandra honey, don't fail me now."  LOL.
~*~*~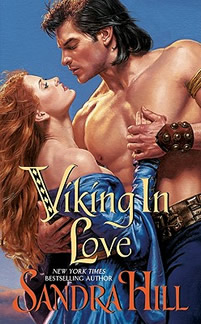 Viking In Love
Authors: Sandra Hill
Publisher: Avon Books
Release date: January 26, 2010
ISBN-13: 978-0061673498
400 pages
All Lord Caedmon of Larkspur wants, after nine long months in the king's service, is a bit of peace…not five bothersome Viking princesses who invade his keep, especially not the fiery redhead, Breanne. He has half a mind to kick her tempting arse out the door…but wait…he has a much more wickedly delightful plan for this thorn in his…um, side.
Princess Breanne of Stoneheim is shocked at Larkspur's rundown condition with servants and children running wild whilst Caedmon lies abed after a night of mead and, no doubt, wanton bedsport. Breanne must endure the loathsome lout to protect her four sisters. She can hardly imagine what this knight will demand of her in return.
~*~*~
To celebrate Sandra Hill's first book with HarperCollins, Avon Books is giving away advance copies to 3 (three) lucky commenters. And tell me this while you're commenting, like me, are you new to Sandra Hill novels?