Today I'm interviewing the lovely debut author  Alyssa Alexander.  THE SMUGGLER WORE SILK was given a 4.5 Star Top Pick by RT Book Reviews and said, "Alexander makes her debut with a thrilling, wild ride of a spy thriller that sizzles with passion. Readers will follow her three-dimensional characters through a maze of plot twists and turns. Like an intricate puzzle, Alexander has all the pieces of the ideal romance and arranges them in the perfect picture. She is a rising star you won't want to miss." 
Please join me in giving Alyssa a warm welcome.
~~~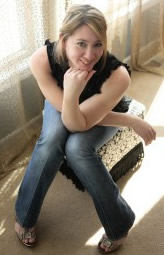 Q: Alyssa, tell us a little about The Smuggler Wore Silk. How did you come up with premise?
A: Julian was a secondary character from my very first book (now hiding under the bed) who was always meant to be a spy. I also knew I wanted to write about military information being sent across the English Channel through a smuggling operation. So, to put Julian and Grace in conflict, I knew I needed to align Grace with the smugglers. Once I discovered smugglers stored their goods in abandoned quarries and caves, the rest is history!
Q: What are readers going to love about your hero and heroine?
A: I hope readers love Julian's vulnerability. Much of the time, he's a clever spy and lives in that world. But because of his past, he has a wounded side that I simply love. As for Grace, she was a difficult character to write and gave me fits throughout the entire process. She's by turns independent and daring, and then meek and downtrodden. This duality in character was tough on a creative level, but I think it's what makes her three-dimensional. At least, I hope so, because if not, I pulled out a lot of hair for nothing!
Q: Traitors and spies and smuggling rings, it all soundsvery suspenseful. Would you classify this a historical romantic suspense?
A: Yes, I do classify this as a historical romantic suspense. The general idea of romantic suspense is that the two plot lines, love and suspense, are so entwined the story can't be told without both. I feel that way about this book because it's the suspense portion that brings them together and puts them in conflict. Julian and Grace's story can't be told without the traitor, the smugglers and their conflicting loyalties. They wouldn't have met otherwise, and they wouldn't have resolved their relationship without their interaction with the traitor.
---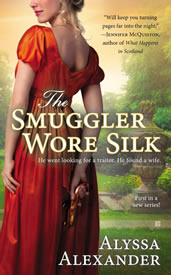 After he is betrayed by one of his own, British spy Julian Travers, Earl of Langford, refuses to retire without a fight, vowing to find the traitor. But when the trail leads to his childhood home, Julian is forced to return to a place he swore he'd never see again, and meet a woman who may be his quarry—in more ways than one.
Though she may appear a poor young woman dependant on charity, Grace Hannah's private life is far more interesting. By night, she finds friendship and freedom as a member of a smuggling ring. But when the handsome Julian arrives, she finds her façade slipping, and she is soon compromised, as well as intrigued.
As she and Julian continue the hunt, Grace finds herself falling in love with the man behind the spy. Yet Julian's past holds a dark secret. And when he must make a choice between love and espionage, that secret may tear them apart.
**Click cover to access buy links
---
Q:  The Smuggler Wore Silk is the first book in the series. Does this series have a name and how are the books connected?
A: The series is called A Spy In The Ton. The books are connected by spies all working for the same spymaster. Many of them work alone, but they call on each other periodically so you'll see characters pop up in other books.
Q: What do you read to relax? Who are your favorite authors? Which book have you reread more times than you can count?
A: I don't read much for pleasure these days, being a mom with a full time job outside the home and a writing career. But when I get a chance, I tend to read outside of my own genre. Suspense and contemporary or paranormal romance.
The book I have read more times than I can count is probably CARS AND TRUCKS AND THINGS THAT GO by Richard Scarry. Sorry, I have a kindergartener.
Q:  The Smuggler Wore Silk is your debut novel. Tell us a bit about the 'call'.
A: That was a wild and crazy day, that's for sure. It was in November and I was at the end of NaNoWriMo, National Novel Writing Month. I promised myself I would buy a great pair of leather boots if I reached 50,000 words. Unfortunately, I didn't meet my goal and planned to forgo the boots. The day I got the call is a blur of amazement, disbelief, and absolute euphoria. What I remember most is that I wanted to tell Mr. Alexander first and I couldn't get him by phone. I called probably a dozen times, then sent him emails and instant messages to call me. In the few hours it took to finally reach him I could barely hold in my news! When he came home that night, he brought with him a bottle of wine and an amazing pair of black leather boots. He said I earned them, even if I didn't make the 50,000 word goal. My hero!
Q: What's next for Alyssa?
A: I'm currently working on a book that started with a minor secondary character. The hero is a grouchy recluse and the heroine is sexy—and deadly. I'm enjoying them immensely!
---
About the author:
When Alyssa is not working at her day job, writing, cleaning house, scaling Mount Laundry or doing any of the other tasks a wife, mother and writer must do, she can usually be found sitting on my deck overlooking the hay fields behind my house. Or, in the winter, she's staring out the window at my deck and wishing the foot of snow would melt. Either way, she's likely to have a book in my hand. And maybe a drink with a paper umbrella.
You can find Alyssa on Twitter @AlexanderAlyssa,  Facebook and her website.
Comment to enter to win a print or Kindle copy of THE SMUGGLER WORE SILK.