Never steal a heart unless you can afford to lose your own.
Through sheer force of will, Ash Cohen raised himself and his younger brother from the London slums to become the best of confidence men. He's heartbroken to learn Rafe wants out of the life, but determined to grant his brother his wish.
It seems simple: find a lonely, wealthy woman. If he can get her to fall in love with Rafe, his brother will be set. There's just one problem–Ash can't take his eyes off her.
Heiress Lydia Reeve is immediately drawn to the kind, unassuming stranger who asks to tour her family's portrait gallery. And if she married, she could use the money from her dowry for her philanthropic schemes. The attraction seems mutual and oh so serendipitous–until she realizes Ash is determined to matchmake for his younger brother.
When Lydia's passionate kiss puts Rafe's future at risk, Ash is forced to reveal a terrible family secret. Rafe disappears, and Lydia asks Ash to marry her instead. Leaving Ash to wonder–did he choose the perfect woman for his brother, or for himself?
Warning: Contains secrets and pies.
The first book in the Lively St. Lemeston series, Sweet Disorder is on sale for $.99 until Jan 20th.

It's probably no surprise that I love marriages of convenience. In fact, when my next book releases in January 2016, 3 of my 5 published books will be MoC stories. So here's a list of some of my all-time favorite marriage of convenience stories to celebrate my current release, True Pretenses (my second Lively St. Lemeston book, about a philanthropist heiress who makes a deal with a Jewish con artist: they marry, she gets her dowry free and clear, and he gets a cut).
1. The Convenient Marriage by Georgette Heyer. I love Horry, the heroine. She's amazing. She stutters and she has weird eyebrows and a deep voice and she goes to see her sister's fiancé to tell him, "Look, my sister is in love with someone else, but we're broke and one of us has to marry you so take me, it really ought to be our middle sister but she shrinks from making such a sacrifice, before you make up your mind I should confess that we have despaired of me growing any taller" and the Earl of Rule is like no problem, you are clearly the greatest thing that's ever happened to me. And then there's sinister rakes, and hapless brothers with gambling debts, and sneaking around in masks and dominoes, and it really is one of my very favorite Heyers. (Overall I like more of her Georgians than her Regencies…I wonder why that is?)
It's a testament to Heyer's skill at roundaboutation that to this day I have no idea whether this couple has sex with each other before the end of the book. I mean, there's a bit that I think is supposed to explain it? And I reread it to write this post and I really think it could be read plausibly in either direction.
2. The Raider by Jude Deveraux. The hero Alex is a (pre-?)Revolutionary War Zorro-type rich guy, who is concealing his nighttime anti-British activities as "the Raider" by…pretending to be really fat. And foppish? Or drunk? I don't remember, but it's a whole Scarlet Pimpernel thing. Anyway the heroine, Jess, has been sleeping with the Raider (he bullies her into it, IIRC, as you have probably guessed by now this book has problematic aspects and I think also the classic "he dumps her in a washtub to win an argument" at one point?), but when circumstances force her to marry the hero's fat public identity, she vows to be faithful to her new husband.
As you can imagine this annoys the hero no end, but it made me very happy because 1) it was kind of rare in old-school romances, at least the ones I read, for a heroine to successfully set sexual boundaries with the hero, and 2) as a big non-athletic nerd, I hate (for example) Superman stories where Lois Lane only likes Superman and not Clark Kent. And in The Raider it's very clear that Jess loves Alex for Alex, not just his derring-do.
3. Brighter than the Sun by Julia Quinn. Charles needs to marry because of the terms of his father's will and Ellie needs to get out of her father's house before her new stepmother moves in. Of course the irrepressible Ellie turns Charles's peaceful home upside down in the best possible way, a lot of very heartwarming things happen, someone is trying to sabotage their marriage, and also there's an abduction! I love this book. I have a signed copy! (I know you're jealous.) It's a note-perfect comfort read, and also contains one of my favorite jokes ever:
Charles began to struggle against his bindings. "If you harm a hair on her head…"
"Charles, I just told you I'm going to kill her," [REDACTED] said with a chuckle. "I shouldn't worry too much about her hair, were I you."
4. A Lady of Persuasion by Tessa Dare. Raised in the West Indies and newly arrived in London, Isabel wants a husband through whom she can exercise political influence and end the injustices she saw growing up. Sir Toby wants…a lot of things. Mostly he wants Isabel, honestly, but also revenge on her brother for stealing his fiancée, and a wife, and attention, and a purpose in life. He proposes to Isabel on impulse the first night they meet, and to her surprise she agrees. I really love the way Isabel's political efforts are depicted in this book, her family backstory is moving and wonderful, and Toby…I love Toby. He is one of my favorite beta heroes ever. There is a scene [SPOILER] where he helps a friend through his wife's difficult childbirth by making frivolous small-talk for hours, and I swoon forever.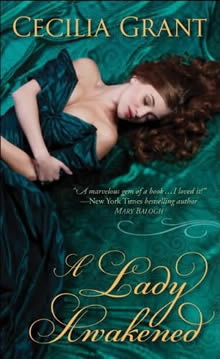 5. A Lady Awakened by Cecilia Grant. Okay, this is not a marriage of convenience, but it is an affair of convenience, and to me it hits a lot of the same sweet spots. Except instead of the hero needing an heir, the widowed heroine does, or else her late husband's horrible brother will inherit everything. So she pays the hero to sleep with her every day for a month in the hopes she will get pregnant and can claim it as her husband's child. So excellent! And then she teaches him all about the pleasures of estate management. It's sooooo gooooood.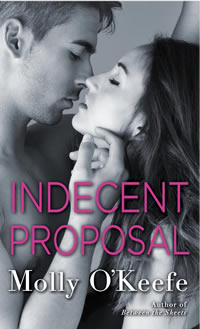 6. Indecent Proposal by Molly O'Keefe. I just read this one a few weeks ago and I'm still so happy to have found a really good contemporary marriage of convenience story. Ryan (the heroine) is a bartender, and Harrison Montgomery is the heir to a corrupt political dynasty and is running for Congress on a platform of cleaning up his dad's mess. One night he's in her bar incognito, having a minor breakdown for personal reasons that I won't spoil. Ryan reaches out, and they have a wonderful one-night stand. Unfortunately, a short time later Ryan realizes she's pregnant (even though they used a condom). When Harrison finds out, he insists they get married so as not to damage his squeaky clean image. Ryan, pregnant, completely broke, and estranged from her family, doesn't feel like she has much choice. But of course she turns out to be exactly what Harrison needs both to save his campaign…and to save himself. Awesome! And I really hope Harrison's campaign manager Wallace gets a book. What an angel.
Tell me about your favorite marriage of convenience!
Comment here to enter to win an ebook of TRUE PRETENSES. 
To enter to win a BIG gift basket of goodies (books, DVD, jewelry etc), visit Rose on her blog.