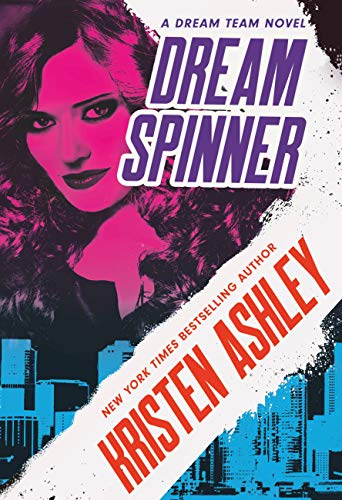 Hattie Yates has finally met the man of her dreams. Yet years of abuse from her demanding father have left her petrified of disappointment. She's already failed to reach her goal of becoming a professional ballerina—she can't handle the terrible consequences of another dream becoming a nightmare. But when a stalker sets their sights on Hattie, there's only one man she dares to hope can help . . . 

Axl Pantera knows Hattie is the only woman for him. Yet despite the attraction burning between them, Hattie refuses to let him in. The former soldier is determined to woo her into letting down her walls. And when danger comes calling, he's up against more than her wary and bruised heart. Axl will do anything to prove to Hattie that they're meant to be, but first, he'll need to keep her safe. 

---

Release Date: May 25, 2021
Series: Dream Team
Book: 3
Heat Level: Hot
Publisher: Grand Central
Imprint: Forever
Price: $7.99
---
Hattie knows she wants Axl but giving into that temptation is not on her list of priorities at the moment. She has been through so much and she has faced disappointments in her life. Trying to think she has a real shot with Axl is too much for her to dream. Yet, she is force to face off with him as she needs his help to ward off a stalker.
Axl is former military guy. He is the kind of hero that Hattie needs. He is strong, caring and ready to make her his woman. I loved how he treated her. Yes, he has to be my favorite hero of the series so far.
I have had my ups and down with this series but I did enjoy this one the best out of the series so far. Yes, it is very triggering. I really dislike all the abuse Hattie had went through but Axl is the man. Oh my!
Hattie really had to work on her confidence throughout the story. It kept throwing up roadblocks but Axl handles that quickly. There is a lot of angst in this story and the action picks up with the weird creepy stalker. Axl is more than ready to protect the woman he loves. I just can't help feeling gushy when I think of him.
Outside of the stalker situation, I really disliked Hattie's father. The abuse that he inflicted upon her is just horrible. She is so weary of men because of his behavior and rightfully so. I'm glad she got the man to help her back to loving herself.
Now I really am looking forward to going back and reading through Ms. Ashley's catalog. Fans of sweet contemporary romances will love this one. Now I'm left wondering whose story is next.
~ Samantha