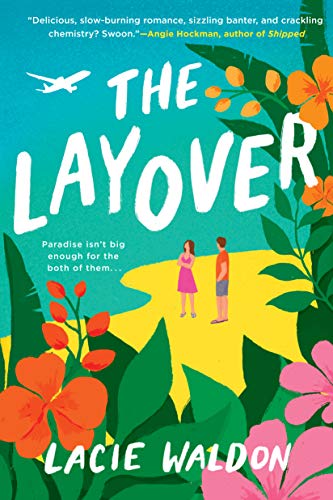 After ten years as a flight attendant, Ava Greene is poised to hang up her wings and finally put down roots. She's got one trip left before she bids her old life farewell, and she plans to enjoy every second of it. But then she discovers that former pilot Jack Stone–the absurdly gorgeous, ridiculously cocky man she's held a secret grudge against for years–is on her flight. And he has the nerve to flirt with her, as if he doesn't remember the role he played in the most humiliating night of her life. Good thing she never has to see him again after they land….

But when their plane encounters mechanical problems, what should have been a quick stop at the Belize airport suddenly becomes a weekend layover. Getting stuck on a three-hour flight with her nemesis was bad enough. Being stranded with him at a luxury resort in paradise? Even with the sultry breeze and white sand to distract her, it will take all the rum punch in the country to drown out his larger-than-life presence.

Yet the more time Ava spends with him under the hot Caribbean sun, the more she begins to second-guess everything she thought she knew about him…and everything she thought she wanted from her life. And all too soon, she might have to choose between keeping her feet on the ground and her head in the clouds….

---

Release Date: Jun 15, 2021
Heat Level: Sensual
Publisher: Penguin Group
Imprint: Berkley
Price: $11.99
---
Ava wants to settle down and the only way to do that is to quit her job as a flight attendant. She promises herself one last trip but nothing is ever as easy as one last thing. She is stuck on the flight with Jack, the jerk of a pilot she hates. To make matters worst, the flight has to land due to an emergency and the two are stuck at a resort together over the weekend.
I really do love me an enemies to lovers trope. I find myself searching for them a lot now a days. So my excitement was in ten folds when I realized that this story was going to deliver just that. While it has the hate part down, it just resonated a little mean-spirited in my opinion. The two often times get real nasty with one another. The main character especially since she is so judgement but she is not exactly a saint. I'll get to her in a minute.
While the enemies to lovers theme wasn't quite executed properly, I didn't take issue with it as much as I did the fact that the heroine is involved in another relationship. I normally don't like when authors do this in my romance. I like a clean meet up and brewing romance. I can tolerate it in some circumstances but the author just tells us that Ava no longer loves her man and that is that. How can I buy that she fell out of love?
The entire time she is in dislike of Jack, Ava is criticizing his man whore ways as if she is not involved in a relationship. I do understand because her fiancé ends up being a real douche but she is quite harsh in her judgement of the hero and her got a little situation going on.
I loved the author's writing style and delivery of quick banter. I loved how the secondary characters all tried to help push Jack and Ava together. Despite not loving this book, I would love to try this author out again.
Overall, this is a quiet read with some funny moments to read on a rainy day.
~ Samantha