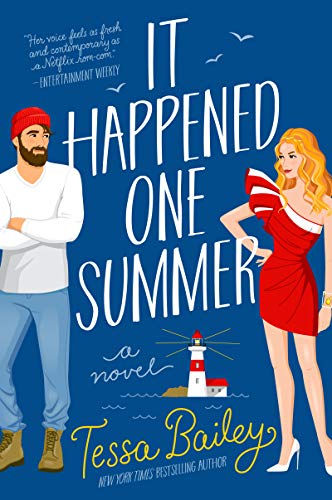 Piper Bellinger is fashionable, influential, and her reputation as a wild child means the paparazzi are constantly on her heels. When too much champagne and an out-of-control rooftop party lands Piper in the slammer, her stepfather decides enough is enough. So he cuts her off, and sends Piper and her sister to learn some responsibility running their late father's dive bar… in Washington.
Piper hasn't even been in Westport for five minutes when she meets big, bearded sea captain Brendan, who thinks she won't last a week outside of Beverly Hills. So what if Piper can't do math, and the idea of sleeping in a shabby apartment with bunk beds gives her hives. How bad could it really be? She's determined to show her stepfather—and the hot, grumpy local—that she's more than a pretty face.
Except it's a small town and everywhere she turns, she bumps into Brendan. The fun-loving socialite and the gruff fisherman are polar opposites, but there's an undeniable attraction simmering between them. Piper doesn't want any distractions, especially feelings for a man who sails off into the sunset for weeks at a time. Yet as she reconnects with her past and begins to feel at home in Westport, Piper starts to wonder if the cold, glamorous life she knew is what she truly wants. LA is calling her name, but Brendan—and this town full of memories—may have already caught her heart. 

---

Release Date: Jul 13, 2021
Series: It Happened One Summer
Book: 1
Heat Level: Hot
Publisher: HarperCollins
Imprint: Avon Books
Price: $10.99
---
The summer romance I've been waiting for!
Bailey has done it yet again. Given me a story I could sink my teeth into with plenty of hella-hot steaming sexy scenes and tons of heart. Also, all the Schitt's Creek fans are going to go be entranced because our heroine, Piper Bellinger is like a long-lost cousin of Alexis Rose.
Piper is a Hollywood party girl, raised with every opportunity to do whatever she wanted, but her only goal seems to be seen at one party or the next and post on her Instagram. Though her viewership is starting to drop and in a moment of temporary insanity after her latest fling dumps her, she throws a party that gets her thrown in jail and handed an ultimatum from her step-father. It's spending three months, cut off from funds, and her birth father's old hometown. Add in a run-down bar as her residence and the problems are just starting.
Poor Piper packs herself off with her sister in tow to the seaside town of Westport, and as the blurb states she meets the hottest King Crab fishing captain this side of the Pacific, Brendan. He's the grumpy, bearded man of my dreams.  Brendan is all stern, locked into his routines, and doesn't need someone like Piper bursting in and ruining everything. She does though and Brendan finds himself lost in her thrall. She's the siren bound to sink his boat and every single page of the fall is glorious.
I devoured this story so fast, smiled a ton, and had to fan myself multiple times at Brendan's dirty talk. If Bailey delivers in one area over and over, it's her heroes have some filthy mouths in the bedroom. Bless them. There is trope gold as well with the tortured hero, fish of water, and the great spin on opposites attract.
Outside of fabulous characters, the seaside Westport is a gold mine, with loveable secondary characters, plenty of charm, and lots of opportunity for romance. Pacing is spot on, with the focus on Brendan's fall for Alexis amid her transformation from social influencer to a woman with a purpose.
Overall, if you're going to read a book this summer, It Happened One Summer is the perfect rom-com to get lost in. I can't wait for more from Bailey and she's quickly rising to the top of my auto-buy list.
~ Landra