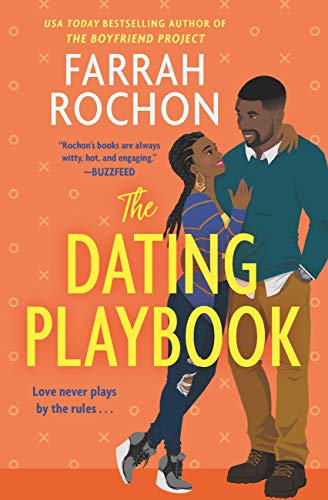 When it comes to personal training, Taylor Powell kicks serious butt. Unfortunately, her bills are piling up, rent is due, and the money situation is dire. Taylor needs more than the support of her new best friends, Samiah and London. She needs a miracle.

And Jamar Dixon might just be it. The oh-so-fine former footballer wants back into the NFL, and he wants Taylor to train him. There's just one catch—no one can know what they're doing. But when they're accidentally outed as a couple, Taylor's game plan is turned completely upside down. Is Jamar just playing to win . . . or is he playing for keeps?

---

Release Date: Aug 17, 2021
Series: Boyfriend Project
Book: 2
Heat Level: Hot
Publisher: Grand Central
Imprint: Forever 
Price: $9.99
---



Jamal Dixon wants back in the NFL despite everyone's persistence that he becomes a coach. He has a lot to prove and he needs help. He reaches out to Taylor Powell to help him get his career back but he gets more than he can bargain for.
Taylor needs all the clients she can get. She needs money and is struggling to get her company up and running. A high-profile client is exactly what Taylor needs. She just didn't anticipate falling in love with her client.
Taylor is strong and independent. She is going through a difficult time and I admired that she holds her head up. The banter between her and Jamar is hilarious and spot on. It flows very easily however the steam factor is a bit weak. I expected the author to give more sexiness to the story because they did have chemistry.
While I absolutely adored Taylor, I had to warm up to her at times. The nutrition and exercise chatter became a bit much. I had read a book a long time ago where the heroine constantly spoke of weight and exercise. It turned me off and momentarily Taylor description and inner dialogue gave me the same feeling.
The overall story is fun and entertaining. Even though this is the second book in the series, the author catches new readers up to date so you are not lost one bit. In fact, you will want to go back to read book 1 to get the full understanding of the friendship with the ladies. I love the female camaraderie.
My main reason for not giving this book five stars is the sports talk became redundant. I'm not the biggest sports romance lover. I need that part of the story to be in the background or in this case tick a lot of the other boxes.
Overall, this is just a well-written story which focuses on friendships, healing and so much more. I look forward to reading London's story next.
~ Samantha