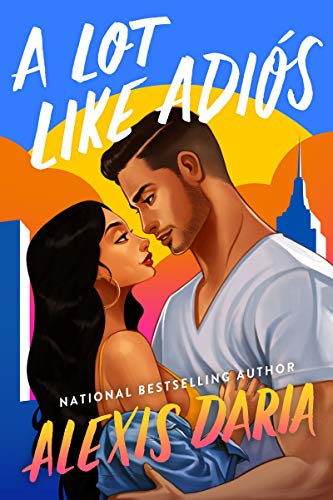 Hi Mich. It's Gabe.
After burning out in her corporate marketing career, Michelle Amato has built a thriving freelance business as a graphic designer. So what if her love life is nonexistent? She's perfectly fine being the black sheep of her marriage-obsessed Puerto Rican-Italian family. Besides, the only guy who ever made her want happily-ever-after disappeared thirteen years ago.
It's been a long time.
Gabriel Aguilar left the Bronx at eighteen to escape his parents' demanding expectations, but it also meant saying goodbye to Michelle, his best friend and longtime crush. Now, he's the successful co-owner of LA's hottest celebrity gym, with an investor who insists on opening a New York City location. It's the last place Gabe wants to go, but when Michelle is unexpectedly brought on board to spearhead the new marketing campaign, everything Gabe's been running from catches up with him.
I've missed you.
Michelle is torn between holding Gabe at arm's length or picking up right where they left off—in her bed. As they work on the campaign, old feelings resurface, and their reunion takes a sexy turn. Facing mounting pressure from their families—who think they're dating—and growing uncertainty about their futures, can they resolve their past mistakes, or is it only a matter of time before Gabe says adiós again?

---

Release Date: Sep 14, 2021
Heat Level: Hot
Publisher: HarperCollins
Imprint: Avon Books
Price: $10.99
---
"Their relationship was complicated, mixed with love and affection, anger and hurt, and unfulfilled desire. But when she thought about Gabe, it was like a cavern opened up in her chest, a gaping emptiness where her heart and vital organs should be. If she had the chance to replace even a bit of what she'd lost, she had to take it. Maybe if he could just be in her life again, somehow, she wouldn't feel the ache of loneliness as acutely as she had since he left."
Gabriel Aguilar left everything in the Bronx including his parents, his family, and his best friend, Michelle, when he chose to go to college in Los Angeles. The falling out with his parents and Michelle have prevented Gabriel from going back to the Bronx, afraid to face them, until he has to travel for work. What's worse than that? His business partner asked Michelle to help them with the marketing for their new gym. Gabe doesn't have anywhere else to hide. Michelle is ready for some answers from the boy who broke her heart years before, and she will stop at nothing to get them.
Alexis Daria continues to impress me. Honestly, her books are highly entertaining and extremely funny. I thought the first one in this series was good, but this one was leagues above it in my opinion. There are a huge number of supporting characters in A Lot Like Adios, but Michelle Amato stole the show in this story. She shines in every page that she is on, and I just want to gush about how wonderful of character that she is. While Gabe may not have the presence that Michelle does in this book, I still enjoyed him. I loved his growth and how his relationship with his family is mended after many years of estrangement. I think that Michelle brought out the best in him and pushed him to do things that were uncomfortable for him or that he had been hiding from. Their physical chemistry was muy caliente, but it extended far beyond the physical to a place of deep intimacy, friendship, and love.
There really was so much to love in this story, and if you are a fan of Talia Hibbert and Alisha Rai then you will absolutely enjoy this one!
~ Michelle