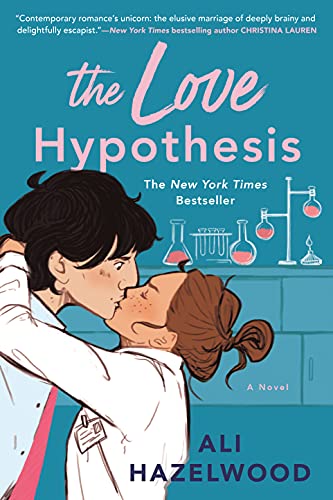 When a fake relationship between scientists meets the irresistible force of attraction, it throws one woman's carefully calculated theories on love into chaos.

As a third-year Ph.D. candidate, Olive Smith doesn't believe in lasting romantic relationships–but her best friend does, and that's what got her into this situation. Convincing Anh that Olive is dating and well on her way to a happily ever after was always going to take more than hand-wavy Jedi mind tricks: Scientists require proof. So, like any self-respecting biologist, Olive panics and kisses the first man she sees.

That man is none other than Adam Carlsen, a young hotshot professor–and well-known ass. Which is why Olive is positively floored when Stanford's reigning lab tyrant agrees to keep her charade a secret and be her fake boyfriend. But when a big science conference goes haywire, putting Olive's career on the Bunsen burner, Adam surprises her again with his unyielding support and even more unyielding…six-pack abs.

Suddenly their little experiment feels dangerously close to combustion. And Olive discovers that the only thing more complicated than a hypothesis on love is putting her own heart under the microscope.

---

Release Date: Sep 14, 2021
Heat Level: Hot
Publisher: Penguin Group
Imprint: Berkley
Price: $9.99
---
Olive is committed to trying to convince her friend that romance is an illusion. Her entire life she has been by herself. She is an orphan who buried herself in her books. Now as a biologist, she focuses on her research projects. 
Olive recently breaks up with her boyfriend and her friend thinks she is still hung up over him. She just doesn't buy into the whole love thing. Being the brainy scientist that she is, she has to prove everyone wrong so she kisses Adam in the hallway in front of everyone.
Adam is shocked but he goes along with it. He will pretend to have something going on with Olive. He needs funding for his own research and this seems beneficial to him. The only hiccup is that neither party expects to really like each other.
You ever just decide to pick up a book on a whim to find out it is a real gem? Well, that is what happed with The Love Hypothesis. I fell for the nerdy romance hard. However, there is just one thing that took away from the story…the repetitive misunderstandings. Yes, it did provide for angst but too many can become boring.
Despite that, I really enjoyed this book. The chemistry between Adam and Olive is really off the charts. The whole nerdy talk which didn't deter me and sexual tension kept me interested all throughout the story. The sex scenes were smoking hot.
The secondary characters added a buffer for when Olive and Adam started to bicker too much. Olive shows her growth as she stood up for herself. Being a woman in the science field is not an easy task. Adam finally let his walls down and he is not such a jerk face. He is the perfect man for Olive.
The humor, writing style and fast pace of the story all makes for the perfect rom-com. I can't wait to read more by Ms. Hazelwood.
~ Samantha