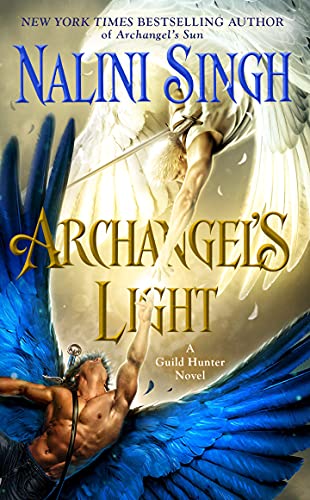 Illium and Aodhan.  Aodhan and Illium. For centuries they've been inseparable: the best of friends, closer than brothers, companions of the heart. But that was before—before darkness befell Aodhan and shattered him, body, mind, and soul. Now, at long last, Aodhan is healing, but his new-found strength and independence may come at a devastating cost—his relationship with Illium.

As they serve side by side in China, a territory yet marked by the evil of its former archangel, the secret it holds nightmarish beyond imagining, things come to an explosive decision point. Illium and Aodhan must either walk away from the relationship that has defined them—or step forward into a future that promises a bond infinitely precious in the life of an immortal…but that demands a terrifying vulnerability from two badly bruised hearts.

---

Release Date: Oct 26, 2021
Series: Guild Hunter
Book: 14
Heat Level: Sensual
Publisher: Penguin Group
Imprint: Berkley
Price: $8.99
---
The story begins one year after the war. Illium is sent to China to assist Aodhan in restoring the war-torn region. Aodhan has been through so much pain and suffering. After Aodhan's captivity, he is no longer the same. Illium recognizes that trying to get his best friend to return home may be a challenge but they have been through so much through the centuries. This healing journey is one that he is willing to go through with his brother.
I'm not really into M/M romance at all but I'm a fan of the series and want to continue with it. After the war, I wanted to know what would happen next for everyone. I dove right in without any hesitation but I'm slightly disappointed in how the story plays out.
The two male leads take forever to recognize their feelings for one another. I'm not sure if that helped me to believe they were supposed to be together. The author flashes between past and present reflecting on their friendship and brotherhood throughout the years. This is where I got confused. The story focuses so much on that that it felt like I missed the part where they fell in love.
This story is what I call slow burn that doesn't help the transition of friendship to lovers that well. These books are long so I want the romance to kick in a bit earlier. It really doesn't happen until ninety percent in. At this point, I'm not invested in them as lovers. I wanted the feels and it was just meh which hurts me to say about this about any book in this series.
There is a lot going on with this world and honestly, I'm looking forward to going back to Elena and Raphael to see how they are holding up. There are other characters that still need to get their story told so I'm sticking with this series.
~ Samantha