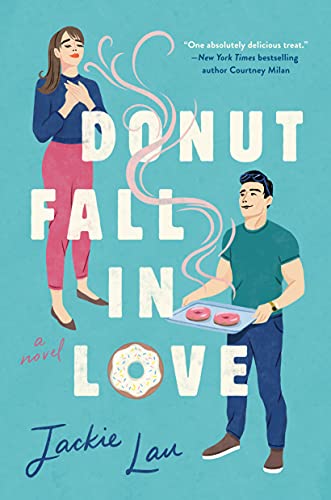 Actor Ryan Kwok is back in Toronto after the promotional tour for his latest film, a rom-com that is getting less-than-stellar reviews. After years of constant work and the sudden death of his mother, Ryan is taking some much-needed time off. But as he tries to be supportive to his family, he struggles with his loss and doesn't know how to talk to his dad—who now trolls him on Twitter instead of meeting him for dim sum.
 
Innovative baker Lindsay McLeod meets Ryan when he knocks over two dozen specialty donuts at her bakery. Their relationship is off to a messy start, but there's no denying their immediate attraction. When Ryan signs up for a celebrity episode of Baking Fail, he asks Lindsay to teach him how to bake and she agrees.

As Lindsay and Ryan spend time together, bonding over grief and bubble tea, it starts to feel like they're cooking up something sweeter than cupcakes in the kitchen.

---

Release Date: Oct 26, 2021
Heat Level: Sensual
Publisher: Penguin Group
Imprint: Berkley
Price: $9.99
---
My first Jackie Lau was a surprise, from slow-burn to steamy.
I'll be honest this book threw me in multiple directions. A slow burn that turned scorching mid-way through. This threw me, because I expected more, though I imagine the author was trying to prevent too much insta-lust.  I got all the Notting Hill feels, but without as much media or paparazzi.
The characters I liked. Ryan Kwok is an actor looking to reconnect with his father and sister after the sudden death of his mother. In the middle of his process, he meets specialty donut shop owner Lindsay McLeod. Lindsay is familiar with loss, losing her dad in high school, which put her on the road to where she is now. While their attraction is there, it builds as Ryan recruits Lindsay to teach him how to bake for a reality show baking competition. The only question is if this is just temporary or something more?
While I enjoyed reading about Ryan and Lindsay, the writing style was different for me and I'm still trying to figure out what exactly about it didn't work. I think some of it had to do with pacing and this story doesn't really hit the tropes that rev my engine.
I loved the author's nods to fandoms, post-partum depression, and I won't lie I am now secretly interested in one mute bartender at Fantastical Brewing. Sometimes secondary characters just stand out so well. Lau is brilliant with this, and she has a whole cast that lights up the page.
Again, this is only my first story by Lau and I plan to give her next book in this series a shot. My fingers are crossed on the characters. Overall, this isn't a wow book for me, but it's not a bad first in a series and sets up things nicely for future books.
~ Landra