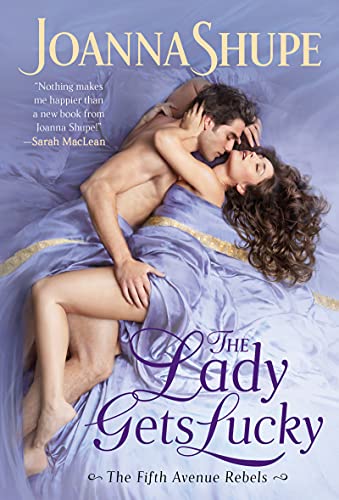 A first-rate scoundrel.
A desperate wallflower.
Lessons in seduction.
  
The woman no one notices . . .
 
Shy heiress Alice Lusk is tired of being overlooked by every bachelor. Something has to change, else she'll be forced to marry a man whose only desire is her fortune. She needs to become a siren, a woman who causes a man's blood to run hot . . .and she's just met the perfect rogue to help teach her.

He's the life of every party . . .
 
Christopher "Kit" Ward plans to open a not-so-reputable supper club in New York City, and he's willing to do whatever it takes to hire the best chef in the city to guarantee its success. Even if it requires giving carnal lessons to a serious-minded spinster who has an in with the chef.
 
Their bedroom instruction grows passionate, and Alice is a much better pupil than Kit had ever anticipated. When the Society gentlemen start to take notice, Kit has to try to win Alice in other ways . . . but is he too late to win her heart?

---

Release Date: Oct 26, 2021
Series: The Fifth Avenue Rebels
Book: 2
Heat Level: Sensual
Publisher: HarperCollins
Imprint: Avon Books
Price: $5.99
---
Book two in The Fifth Avenue Rebels still has me hooked.
I think Shupe gets me with the tropes. The wallflower and the scoundrel, a trope match made in heaven. Of course, I'm going to read it.   
We begin with an awkward encounter, where scoundrel, Kit Ward, finds a woman in his room at a house party and not one that he invited there. Heiress Alice Lusk is desperate to get the upper hand in her mother's matchmaking schemes by getting tutored in how to attract a man or else she'll be married off to a fortune hunter and not to someone she'd rather choose herself.
Of course, Kit's happy to oblige, only because Alice's father employs a chef he needs recipes from for an upcoming club he's opening. In exchange for lessons, Alice will provide the recipes Kit so desires, but what starts as a few tips and pointers becomes an obsession. Kit can't get enough of Alice, nor can he stop himself from wanting more time with her.
I enjoyed this story, with Kit and Alice constantly trying to not fall for each other, but each 'lesson' makes it near impossible. Add in Alice's secret love of cooking, which I also love to do, and I immediately wanted her to make all her dreams come true. Though as the story progressed, I didn't think an HEA would be possible.
Side note: I feel horrible for this English Duke that keeps getting tossed around. In the first book of this series, he was ditched by the heroine after proposing. In Alice's story, Alice charms him and then of course her attraction and desire for Kit gets in the way. This guy can't catch a break.  I really hope Shupe has something planned for him in the future.
Overall, this is a nice read to get lost in for a few hours and a good follow up for the first in the series. I'm looking forward to the next book as these scoundrels keep falling. For readers who enjoy Maya Rodale.
~ Landra