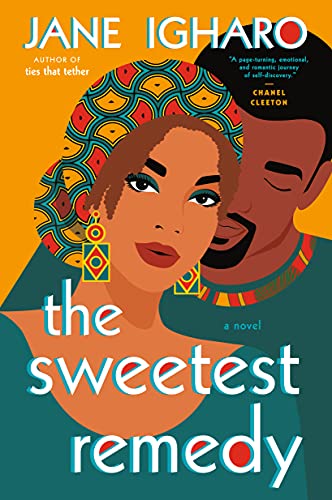 Hannah Bailey has never known her father, the Nigerian entrepreneur who had a brief relationship with her white mother. Because of this, Hannah has always felt uncertain about part of her identity. When her father dies, she's invited to Nigeria for the funeral. Though she wants to hate the man who abandoned her, she's curious about who he was and where he was from. Searching for answers, Hannah boards a plane to Lagos, Nigeria. 
 
In Banana Island, one of Nigeria's most affluent areas, Hannah meets the Jolades, her late father's prestigious family—some who accept her and some who think she doesn't belong. The days leading up to the funeral are chaotic, but Hannah is soon shaped by secrets that unfold, a culture she never thought she would understand or appreciate, and a man who steals her heart and helps her to see herself in a new light.

---

Release Date: Sep 28, 2021
Heat Level: Hot
Publisher: Penguin Group
Imprint: Berkley
Price: $9.99
---
Hannah is about to embark a new journey in life when she learns her father has died. This is a man she has never really knew and always wondered about. In order to get some answers about herself and her father's life, she heads to Nigeria for his funeral. She just didn't expect her father to come from such a rich family with many personalities. The funeral is in a week but she wonders can she survive her new family?
Ms. Igharo produces another solid read. We are back with another strong female lead who is on the path of self-discovery. Hannah has never felt sure of her identity and being around her family she is bound to learn a lot about herself. To add more to the mix, she strikes up a relationship with Lawrence who is close to her family. She didn't come to Nigeria to fall for any man.
I love the importance of cultural acceptance in this romance. Hannah gets cultural awareness in big doses throughout the book from her siblings. Some of siblings take an instant dislike to her. They want to know why she is there? Does she want a role in the family business? She learns how to fit in despite her own misgivings.
Her interaction with Lawrence starts in the states and she is shocked to see him in Nigeria when she arrives at her family's estate. She can't help but to think she was attracted to a sibling or cousin. Then she discovers they are not related but that his family has worked for hers.  Lawrence is a constant comfort to her as she tries to figure everything out.
My main complaint is that sometimes the romance gets lost in translation. The main focus of the book is family dynamics and self-identity. I want just a hint more romance to balance out all the other themes.  There is also the fact that Hannah and her family smoothed everything over a bit too quickly. I blame it on the fast pacing of the storyline more than anything.
Overall, a really quick and warm family story. I am still a fan of Ms. Igharo and can't wait to see what she has next for us readers.
~ Samantha