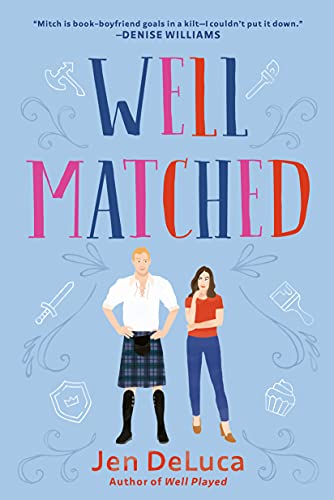 Single mother April Parker has lived in Willow Creek for twelve years with a wall around her heart. On the verge of being an empty nester, she's decided to move on from her quaint little town, and asks her friend Mitch for his help with some home improvement projects to get her house ready to sell. 

Mitch Malone is known for being the life of every party, but mostly for the attire he wears to the local Renaissance Faire—a kilt (and not much else) that shows off his muscled form to perfection. While he agrees to help April, he needs a favor too: she'll pretend to be his girlfriend at an upcoming family dinner, so that he can avoid the lectures about settling down and having a more "serious" career than high school coach and gym teacher. April reluctantly agrees, but when dinner turns into a weekend trip, it becomes hard to tell what's real and what's been just for show. But when the weekend ends, so must their fake relationship. 

As summer begins, Faire returns to Willow Creek, and April volunteers for the first time. When Mitch's family shows up unexpectedly, April pretends to be Mitch's girlfriend again…and it doesn't feel so fake anymore. Despite their obvious connection, April insists they've just been putting on an act. But when there's the chance for something real, she has to decide whether to change her plans—and open her heart—for the kilt-wearing hunk who might just be the love of her life.

---

Release Date: Oct 19, 2021
Series: Well Met
Book: 3
Heat Level: Hot
Publisher: Penguin Group
Imprint: Berkley
Price: $9.99
---
April Parker decides it is time to make new changes in her life. She starts to prepare her move from her small town home. This is the fresh start that she needs. She asks Mitch to help her prepare the house for sale. He agrees if she can play his girlfriend in front of his family. The problem is that one weekend of pretend feels like something real brewing in the background.
April doesn't need any distractions from selling her house. Mitch is younger than her and the town's hottie. They are not a perfect match. She thinks they can remain friendly but then Mitch's family is back in town again and she is helping him out as his "girlfriend". The only problem this time is that April is not sure if they aren't well matched.
I selected this book on the synopsis alone and now I wish I had read the previous books in the series. The story is still so engaging that I didn't feel lost one bit. I can't wait to go back and read the other installments. April and Mitch bring such a fun and quirky town to life.
While I enjoyed this story well enough there are few things that is bothersome. The author uses the tedious home improvement scenes as filler. It bogs down the story and didn't add much for the movement of the characters at certain times.
There is also the fact that April is not the warmest book heroine. It takes time to warm up to her. She is guarded from her past relationship with her daughter's husband. After so many years in this small town, I would think she could be a bit more open and friendlier. Mitch literally broke down walls with April in more than one way.
Overall, I love the back and forth. Mitch's charming personality won me over. I'm glad the author showed there was more to him than being eye candy. He forces April to really look deep inside and figure out if leaving is worth it.
This is such a quick and light read. I look forward to going back to the other books in the series.
~ Samantha