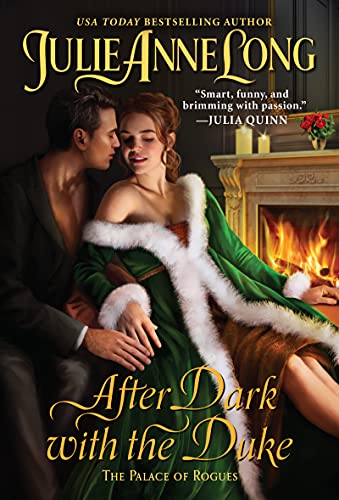 She arrives in the dead of night, a mob out for blood at her heels: Mariana Wylde, the "Harlot of Haywood Street," an opera diva brought low by a duel fought for her favors. But the ladies of the Grand Palace on the Thames think they can make a silk purse from scandal: They'll restore her reputation and share in her triumph…provided they can keep her apart from that other guest.
Coldly brilliant, fiercely honorable, General James Duncan Blackmore, the Duke of Valkirk, is revered, feared, desired…but nobody truly knows him. Until a clash with a fiery, vulnerable beauty who stands for everything he scorns lays him bare. It's too clear the only cure for consuming desire is conquest, but their only chance at happiness could lead to their destruction.
The legendary duke never dreamed love would be his last battleground. Valkirk would lay down his life for Mariana, but his choice is stark: risk losing her forever, or do the one thing he vowed he never would…surrender.

---

Release Date: Nov 30, 2021
Series: The Palace of Rogues
Book: 4
Heat Level: Sensual
Publisher: HarperCollins
Imprint: Avon Books
Price: $5.99
---
Mariana Wylde, known as the "Harlot of Haywood Street," is an opera diva ruined by a duel fought for her favors.  She takes refuge with the ladies of the Grand Palace on the Thames, and quickly gets off to a poor start with another guest: war hero General James Duncan Blackmore, the Duke of Valkirk, who is staying at the Grand Palace while he writes his memoir.
This is the fourth book in The Palace of Rogues series, which centers around the Grand Palace on the Thames boardinghouse.  This is my first time reading Julie Anne Long, so I don't know if this book would have been better read in order.  There are clearly secondary and background characters who have appeared in the previous books.
The story begins with Mariana fleeing her lodgings while being hunted by an angry mob and arriving at the Grand Palace.  She doesn't have much money so she trades her talent for room and board, agreeing to a ticketed singing performance. Judgmental James has read all about Mariana's notorious reputation and immediately snubs her.  In turn, she is nasty right back and things escalate until he takes the insults too far and is forced to apologize.
I thought the story hit a good stride when James agrees to give Mariana Italian lessons.  They begin to let down their guard and reveal personal details that help them understand more about each other.  But the story lost momentum for me, and I struggled to connect to their romance.  Overall, a decent read, but not one that will be memorable for me.  I think fans of Sophie Jordan's The Duke Goes Down may enjoy this book.
~ Leslie