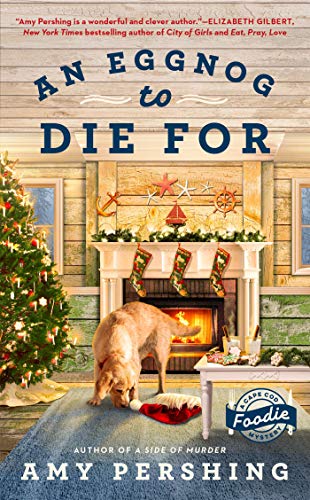 Christmas is coming to Cape Cod, but when Sam Barnes finds a very dead Santa in a very hip restaurant, it's up to her to sift out suspects who have been naughty vs. nice….

Professional foodie Samantha Barnes has a simple Christmas list: a quiet holiday at home with her dog and a certain handsome harbor master; no embarrassing viral videos; and no finding dead bodies. Unfortunately she's got family visiting, she's spending a lot of time in front of the camera, and she's just stumbled over the lifeless body of the town's Santa Claus.
 
Plus, Sam's plans for Christmas Eve are getting complicated.  There's the great eggnog debate among her very opinionated guests.  There's the "all edible" Christmas tree to decorate.  And there's her Feast of the Five Fishes prepare. Nonetheless, Sam finds herself once again in the role of sleuth. She needs to find out who slayed this Santa—but can she pull off a perfect feast and nab a killer?

---

Release Date: Nov 9, 2021
Series: A Cape Cod Foodie Mystery
Book: 2
Publisher: Penguin Group
Imprint: Berkley
Price: $8.99
---
Samantha "Sam" Barnes is settling back into life at Cape Cod after an unflattering viral video caused her to leave New York City. Sam now writes restaurant reviews and creates food videos for the local newspaper. She spends her time off with her childhood friend Jenny and her "maybe boyfriend" Jason. She's looking forward to relaxing over the upcoming Christmas holiday. Plans change when Sam's parents call to say they're coming in from Florida for a visit. Sam then finds a dead body and goes viral again when while being recorded, she declares that Santa is dead!
This is the second book in the Cape Cod Foodie Mystery series, but the first I've read. The book gets off to a great start with a quote about eggnog from the movie Christmas Vacation. The book lives up to the expectation that it will be full of humor. The descriptions of Cape Cod are detailed and really help me picture the setting. I also like the premise and the plot of the book with a food reporter taking on a murder investigation. I like when she and her mom, a retired reporter with the same newspaper Sam now works, interview suspects together. Sam is less relatable when she is investigating on her own as she repeatedly accuses the wrong person, and takes unnecessary risks to get the information she is looking for.
I really like Sam's rapport with her friend, Jenny, and their dialogue really shows that they've been friends since childhood instead of just telling us that in the narrative. Her relationship with Jason is less successful to me. When things are going well, they have all kinds of chemistry and Jason says all the right things to her. What is confusing is that Sam hints at unresolved issues and things the two of them need to discuss without going into too much detail. Perhaps this was covered in the first book, but I felt a bit lost.
I was surprised when the identity of the killer was revealed and liked the way the story wrapped up overall. However, it takes a while to get there and the pace of the story is uneven. The way the story is narrated, there are food tips given in parenthesis in the middle of dialogue or other parts of the narrative. This really distracted me from what the real focus of those sections should have been. I would have preferred a list of food tips organized at the end of the book before the recipes that are included. I was actually surprised to see only four recipes at the end of the book when so many details about food are included throughout the story. I like the book, but wish it had been more focused. Readers who enjoyed the first book in this series or fans of Lucy Burdette or Lee Hollis will want to give this one a try.
~ Christine