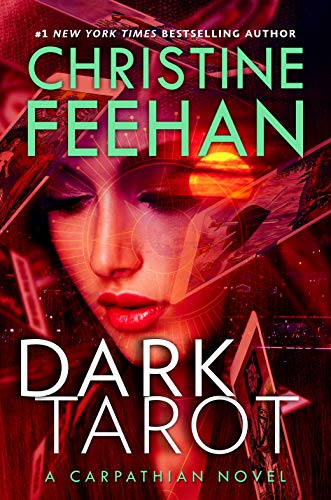 Sandu Berdardi continues to exist only to protect his people. An ancient Carpathian, his entire long life has been dedicated to honor above all else. He knows his time has passed, especially since he has not been able to find his lifemate—the anchor to keep him sane in a world he no longer understands. But just as he truly starts to give up hope, a voice reaches out to him in the night and his world explodes into color.
 
Adalasia enters Sandu's mind seamlessly, as if she has been a part of him forever. While she can see the shape of things to come in her deck of cards, her gift is both a blessing and a curse. The true course of Sandu's quest remains unclear, with danger waiting at every turn. She cannot see everything the future holds, but she does know it is a journey they will take together.
 
By joining him, she will start them down a dangerous, seductive path from which there is no coming back….

---

Release Date: Nov 9, 2021
Series: The Dark
Book: 35
Heat Level: Sensual/Hot
Publisher: Penguin Group
Imprint: Berkley
Price: $14.99
---
"There it was. A low murmur. A woman's voice. Her voice. Adalasia. She was real. Not a figment of his imagination. He went completely still, his heart pounding, blood thundering in his ears before he could get control. He immediately swept away that unacceptable reaction. Emotions had no place in the life of an ancient, a hunter of the undead. He had no idea if his woman was being held hostage or if she was his enemy. No matter which it was, she was his lifemate and he would sort it out. To do that, he needed to be in absolute control."
Sandu Berdadi is a powerful ancient Carpathian who spends his life fighting the undead to protect his people, but he feels that his time is dwindling. He has been wandering aimlessly searching for his lifemate, but he has been unable to find her. She will be the lightness to the darkness inside of him. Sandu begins to despair that he will ever be able to find her when he hears a voice inside his mind warning him of dangers to come, and he instantly recognizes that this is the voice of his lifemate. He knows that he must find her. Sandu and Adalasia go on this journey of discovering their fated love and facing an evil like they have never faced before. Their path is savage and full of danger, but their love is deep and all encompassing.
Christine Feehan's graphic world building is substantial and far-reaching in her Dark series, and it transports the reader to a place full of demons, vampires, seers, and tons of other magical beings. I struggled with this book because it is the thirty first book in the series, and I have never read any of the others. This absolutely can't be read as a stand alone because Sandhu's character arc begins in other books, and there are many cameos by past couples that we see throughout Adalasia and Sandhu's journey. It is because of this intricate world building that I would suggest beginning this series at the first book. Sadly, I couldn't form any sort of connection to the main characters. I am also not used to Christine Feehan's style of writing, and I found some of it to be very choppy. The sentence structure did not flow at times, and it felt jarring to me as a reader. I didn't think this was all bad though because the chemistry between Adalasia and Sandhu was electric, and I found their love to be sweet and a little spicy.
If you're already a fan of this series or Nalini Singh's Archangel series then you will probably enjoy this one. I do not recommend picking this one up without having previously read others in this series.
~ Michelle