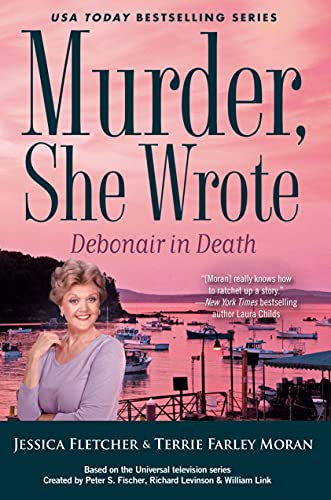 When Nelson Penzell, co-owner of a local art and treasure store in Cabot Cove, is murdered, the nail tech from Jessica Fletcher's favorite beauty parlor is the main suspect. After all, she's the one who ran out of the store screaming, covered in blood, and holding the murder weapon. Jessica is positive that despite the circumstances, Coreen can't possibly be guilty, and is determined to prove it.

When Michael Haggerty, handsome MI-6 agent and Jessica's old friend, is caught snooping around the victim's home, it's quickly apparent to her that she was right. Nelson has always had a bit of a reputation for being a rake, but Haggerty is sure his sins go far beyond what anyone in town imagined. If she wants to clear Coreen's name, Jessica will have to work alongside Michael to find out who killed Nelson—and maybe help bust a crime ring in the process.

---

Release Date: Nov 2, 2021
Series: Murder She Wrote
Book: 54
Publisher: Penguin Group
Imprint: Berkley
Price: $13.99
---

It's autumn in Cabot Cove, Maine and author/amateur sleuth Jessica Fletcher is hard at work on her next book. Other people in town are buzzing about Nelson Penzell, a new arrival in town who has gone into a partnership with a local merchant. Nelson is known for being an expert in the field of art, but his reputation regarding his treatment of women isn't so good. When Nelson is murdered in his own home, the nail technician at Jessica's hair salon becomes the prime suspect. Jessica teams up with her hair stylist, Loretta, who is the young woman's boss to prove Coreen's innocence and track down the real killer.
This book is part of the long-running Murder She Wrote mysteries, but is fine as a standalone if you've not read any of prior books. The books have had a few different authors and this is the second by Terrie Farley Moran. I love her interpretation of the characters, which is much closer to the earlier books in the series and to the television version of Jessica and her friends Dr. Seth Hazlitt and Sheriff Mort Metzger. I love the main plot of this book, as well as the interesting team of Jessica and Loretta who work together to find evidence proving to Mort that Coreen is not the killer. Jessica uncovers many other suspects since Nelson made a lot of enemies in both her personal life and on the job. I also enjoyed getting to know Coreen and the character of her lawyer, Regina. I hope Regina takes on another case in Cabot Cove soon.
As part of a subplot involving a jewelry theft ring and the possible involvement of international spies, Jessica receives a surprise visitor, MI-6 Agent Michael Haggerty. I don't remember this character, but I think he appeared in a few episodes of the television series. He apparently has a habit of arriving unexpectedly when he needs Jessica's help with a case. I didn't see any charm to the character. I was surprised at how demanding he was of Jessica's assistance and even more surprised that she went along with what he said. I think the character of Michael and the whole subplot provides unnecessary complications and detracts from the main plot of the book. I'm hoping Agent Haggerty doesn't pop back into Jessica's life anytime soon. The rest of the book was delightful and I recommend it to fans of the series, as well as cozy mystery readers looking for a nice Fall read.
~ Christine