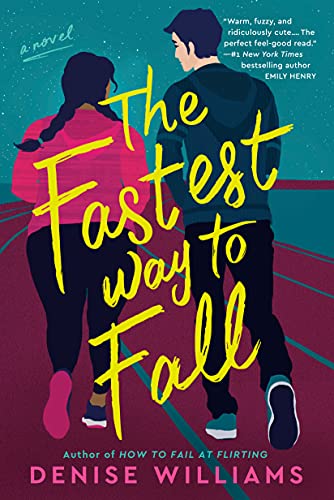 Britta Colby works for a lifestyle website, and when tasked to write about her experience with a hot new body-positive fitness app that includes personal coaching, she knows it's a major opportunity to prove she should write for the site full-time.
 
As CEO of the FitMi Fitness app, Wes Lawson finally has the financial security he grew up without, but despite his success, his floundering love life and complicated family situation leaves him feeling isolated and unfulfilled. He decides to get back to what he loves—coaching. Britta's his first new client and they click immediately.
As weeks pass, she's surprised at how much she enjoys experimenting with her exercise routine. He's surprised at how much he looks forward to talking to her every day. They convince themselves their attraction is harmless, but when they start working out in person, Wes and Britta find it increasingly challenging to deny their chemistry and maintain a professional distance.
Wes isn't supposed to be training clients, much less meeting with them, and Britta's credibility will be sunk if the lifestyle site finds out she's practically dating the fitness coach she's reviewing. Walking away from each other is the smartest thing to do, but running side by side feels like the start of something big.

---

Release Date: Nov 2, 2021
Heat Level: Hot
Publisher: Penguin Group
Imprint: Berkley
Price: $9.99
---
Britta is a journalist who agrees to try out a fitness app for a magazine. The app pairs the client up with a coach and the health journey begins. The thing is that Britta is proud of her body. Sure, she is curvy and get in better shape but she doesn't hate her appearance. Britta does have her issues and she strikes up a deeper conversation with her new coach, Wes. Pretty soon, the two are exchanging hot emails and building a friendship that feels like something more.
This is a slow burn romance which I didn't mind. The author manages to keep the chemistry burning the entire story while tackling some heavy issues that the main characters were going through. There is addiction, eating disorders, insecurities and heartbreak laced tightly into this romance. With so much of the emotional baggage they had, the romance at times was placed on the back burner.
The two characters are loners and they connect through their email exchange and when they finally meet it just clicks. I did wonder would they have such a strong connection if they weren't loners dealing with a lot of issues, especially Wes. His family's problems were so heavy. Please note that the author does provide a disclaimer about the subject matter which helps.  
This could have easily been a 5 star book but Britta and Wes constantly went in circles with their miscommunication. They were smart adults who could have had the conversation to clear up a lot of misconceptions but nope. They kept going on and on. I also felt as though Wes flipped back and forth with his emotions. He finally got it together once Britta called him out but it took too long.
Overall, Ms. Williams has made a fan of me. I look forward to more from her.
~ Samantha