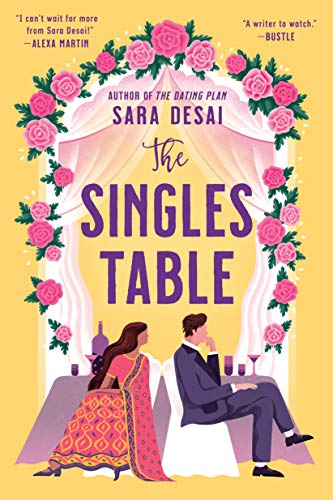 After a devastating break-up, celebrity-obsessed lawyer Zara Patel is determined never to open her heart again. She puts her energy into building her career and helping her friends find their happily-ever-afters. She's never faced a guest at the singles table she couldn't match, until she crosses paths with the sinfully sexy Jay Dayal.
 
Former military security specialist Jay has no time for love. His life is about working hard, staying focused, and winning at all costs. When charismatic Zara crashes into his life, he's thrown into close contact with exactly the kind of chaos he wants to avoid. Worse, they're stuck together for the entire wedding season.
 
So they make a deal. She'll find his special someone if he introduces her to his celebrity clients. But when their arrangement brings them together in ways they never expected, they realize that the perfect match might just be their own.

---

Release Date: Nov 16, 2021
Series: Marriage Game
Book: 3
Heat Level: Hot
Publisher: Penguin Group
Imprint: Berkley
Price: $9.99
---
Zara Patel is this crazy celeb-obsessed attorney who loves her single life. She makes sure to dodge all the aunties during the wedding season by hooking everyone else up. She reserves her spot at the singles table but she never remains there. She is too busy playing match makers until this season she realizes she may actually find her match.
At her table, she is introduced to a grumpy military security personnel, Jay Donovan. He is definitely adding a sour vibe to the mix but she is determined to pair him up with someone. Jay doesn't mind since his mother has been riding him to find the perfect woman. He agrees to Zara's scheme. All he has to do is let her in on where he will be with his celebrity clients. The problem is that Zara thought pairing Jay with a woman would be easy but she finds herself wanting to be with him.
This book is so hilarious and zany. I really love the cast of mix characters. We get to see old and new from the series. There are some really fun times and the chemistry between Jay and Zara are off the charts. This is the perfect blend of rom-com meets opposites attract. I couldn't pair two different characters together for the perfect romance if I wanted to.
Jay is top-level book boyfriend. Yes, he is a bit grumpy and very militant but he loosens up and he allows Zara to be Zara.  He also has some PTSD from childhood and his family. The author could have gone deeper on that issue but I understand that she may wanted to keep the light feeling. The only thing that annoyed me was the back and forth with the characters. The push and pull feeling is never attractive to me in romance novels but they are a ploy many uses, that I tend to accept it.
Overall, I can't wait to see who is next up in this series. Fans for a fun light hearted read should definitely pick up this book. You didn't even have to read the first book in the series.
~ Samantha