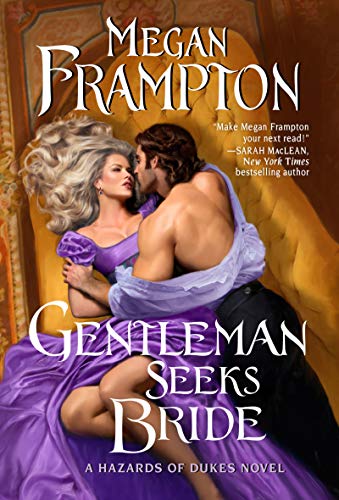 It's a well-known fact that when a man is in search of a bride, a good dowry is never a hindrance.
Thomas Sharpe is handsome, well-bred, and desperately in need of a wealthy bride. His father has lost their income, his sister needs looking after, and so to save them all from a life of poverty he travels to London in search of an heiress.
Enter Lady Jane Capel. After her fiancé ended their engagement two years ago, Jane boldly left her parents' home and moved in with her half-brother Percy. What does one more scandal matter to a family with such a curious reputation? Jane is independent, but not as well versed in life—and love—as she wants.
The two of them strike a deal: Thomas will show her all there is to know about the world —and intimacy—and Jane will help him find a bride. But the more time they spend together and the closer they get, the two of them soon realize that things aren't so simple when it comes to men and women…

---

Release Date: Nov 30, 2021
Series: A Hazards of Dukes
Book: 4
Heat Level: Scorching
Publisher: HarperCollins
Imprint: Avon Books
Price: $5.99
---
Thomas Sharpe needs a wealthy bride.  He's handsome and charismatic, but his father lost their family wealth on a bad investment.  Lady Jane Capel was jilted by a no-good-ex-fiancé and her parents cut her off financially.  She's living with her half-brother and trying to figure out what she wants from her life.  Jane offers to help her brother's friend, Thomas, make a match, in exchange for showing her all the things in life that men get to enjoy but young ladies are sheltered from…including intimacy!
This is the fourth book in the Hazards of Dukes series.  Jane is the sister of book three heroine, Lavinia.  Jane's backstory is largely left out of this novel, so readers may want to read the previous story, A Wicked Bargain for the Duke, to find out about Jane's failed betrothal.
I thought Thomas was the better developed character here.  Often in romance novels, the female lead needs to marry to save the family but this time it was our hero.  His parents are aging, he has a frightfully shy sister, and he needs to step up to the marriage plate in order to take care of everyone.  He thought marrying for a dowry would be easy but, two years later, he's no closer to finding a wife.   Thomas has a pretty face but is deemed too flirtatious and not serious enough to settle down with.  Enter Jane, his best friend's sister, who would be an excellent choice…if only she hadn't been disowned. 
This book is not for the pearl-clutchers!  Jane and Thomas have a strong physical connection and they make use of it…repeatedly.  From hot air balloon caresses to visiting a voyeur club, this book is definitely high steam.  Give this one a shot if you like sexy stories that put a different spin on a popular trope.
~ Leslie