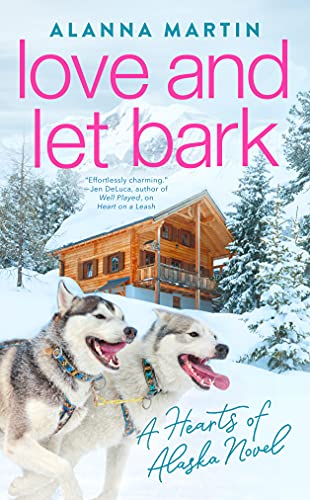 It's up to two rescue husky puppies to convince their owners it's never too late for a second leash on love.

When Nate Porter left Helen, Alaska, to become a firefighter with the Forest Service, he claimed it was because he craved adventure. The truth was, he couldn't stand to hang around, pining for a girl the town's century-old feud meant he could never have. But Nate got over Lydia Lipin years ago, or so he thought until he learns that an old rival has come sniffing around. The solution—a trip home with his rescue puppies to prove to himself he completely extinguished that old flame.

Lydia Lipin has always been satisfied being the "good" Lipin daughter—dutiful, practical, and always putting others before herself. But that role begins to chafe as Nate's return ignites old memories. No one in town knew about their secret friendship or those forbidden kisses they stole the summer after graduation. Suddenly, Nate and his puppies are everywhere, and sparks are flying.

When Nate realizes he never got over Lydia, he'll risk everything for a second chance. But Lydia's not a risk-taker, and she has to make a choice—play it safe and pretend their summer fling was just puppy love, or step out of the family shadow and unleash her heart.

---

Release Date: Nov 30, 2021
Series: Hearts of Alaska
Book: 3
Heat Level: Warm/Sensual
Publisher: Penguin Group
Imprint: Berkley
Price: $7.99
---
"Dawn- or what passed for it at this time of year- didn't change Nate's resolve. Every interaction he'd had with Lydia, culminating in that almost-but-not-quite-like-old-times phone call last night, had forced him to realize how much he still cared about her. He could tell himself all he wanted that it should be impossible to be head over heels for a woman he'd lost touch with a decade ago, but facts were facts. His physical attraction to Lydia was as strong as ever, and everything else about her continued to draw him in like a bonfire at midwinter. She was a light in the darkness. Warmth in the cold. A welcoming presence telling him he was home."
Nate Porter and Lydia Lipin's forbidden relationship ten years ago was torn apart by the feud between their families. Nate left town and hasn't been back since until he hears that Lydia's ex-boyfriend is back in town pursuing her. Nate finally has to decide about his feelings for Lydia Lipin: Keep running away or confront them head on once and for all.
I have thoroughly enjoyed the other books in the Hearts of Alaska series, and when found out the final book was going to be Lydia and Nate I was super excited. I am a sucker for a good second chance romance. It is one of my favorite tropes so this book should actually check all the boxes for me. It didn't though. Why?  I just kept wishing for some extra depth from both of these characters and their relationship. I was also expecting a great deal more angst too since it is forbidden love and they were separated because of the feud, but it just wasn't there. It just felt extremely watered down. I wonder if the reason is because every book in this series seems to use the same tropes, so they start to feel overdone. The feud has been an over-arching plot point since the beginning, and I had some fatigue when reading what felt like an immensely similar story to the other two. It was a good book, but just was my least favorite in the series so far.
Give this one a chance if you are a fan of small-town romance authors like Susan Mallery or Debbie Macomber.  
~ Michelle