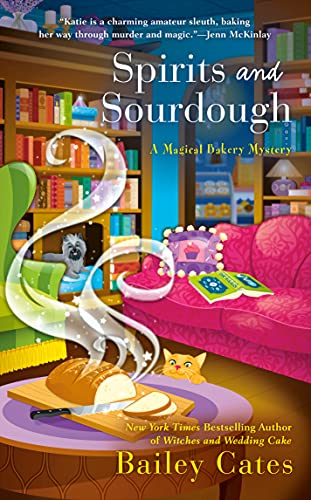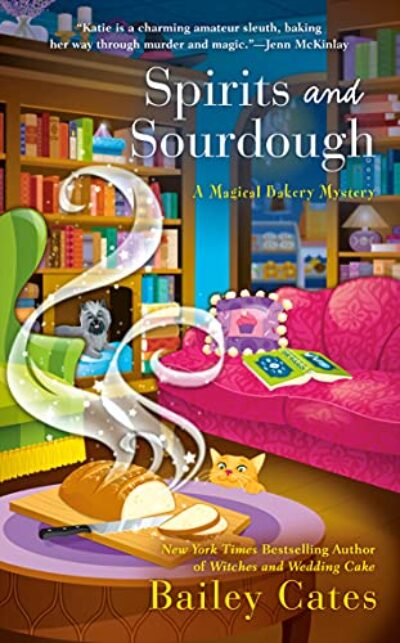 Hedgewitch Katie Lightfoot works at the Honeybee Bakery in Savannah, and she's always up for investigating her adopted home's rich supernatural history. That's why she's taking a ghost tour for the very first time. But when the psychic tour guide tells Katie that she's being followed by the ghost of a recently murdered woman, Katie realizes she met the victim earlier that day, just before she died. She knows she must bring the killer to justice.
And this murder isn't the only mystery Katie needs to solve. Her new husband, Declan McCarthy, is missing the guardian spirit who always watched over him, and she's concerned that Deck's life could be at risk if they can't find him. Under pressure from the living and the dead, Katie will have to use all of her magical skills to start an investigation from scratch and avoid half-baked alibis, because this baker kneads to find a killer.

---

Release Date: Jan 4, 2022
Series: Magical Bakery
Book: 10
Publisher: Penguin Group
Imprint: Berkley
Price: $8.99
---



Katie Lightfoot owns the Honeybee Bakery in Savannah, Georgia, along with her aunt and uncle. In addition to being a professional baker and a wife of two years, Katie is also a witch. Katie goes on a ghost tour being led by a friend of a friend. The guide almost faints during the tour and later tells Katie that the spirit of a woman who was just killed appeared to her. Teddy tells her that the ghost is demanding that Katie solve her murder. Katie is able to figure out the identity of the victim and agrees to investigate the crime, even though the local police aren't enthusiastic about her help.
I like the main character, Katie, and her husband Declan. In addition to investigating the murder, Katie is also trying to figure out how to find Declan's lost guardian spirit because she worries about his dangerous job as as first responder without him having that extra protection. She is willing to risk her own safety to help her husband. Katie has a large circle of friends, but I didn't feel I got to know them very well. What I did see is Katie's friends are supportive of her learning more about her abilities as a witch, as well as other aspects of her personal life. Katie is very kind in reaching out to the troubled ghost tour guide, Teddy, and they end up working well together on an important event in the story. Katie is good at getting answers as she investigates the murder, and I was surprised when the identity of the killer is eventually revealed. 
Although this is the tenth book in the Magical Bakery Mystery series, it's the first I've read. Some cozy series are easy to jump into and many series I've joined late have turned out to be some of my favorites. The murder mystery aspect of the book stands on its own, but there are a lot of characters to keep track of if you're unfamiliar with the series. In addition, most of the characters have backstories about their relationships and friendships and their special abilities. It's pretty overwhelming for a new reader, and I eventually just had to focus on the mystery and the main characters of Katie and Declan. Doing so allowed me to enjoy the story, but I think this is a book that is better suited for those who have read at least some of the prior books in the series.
~ Christine