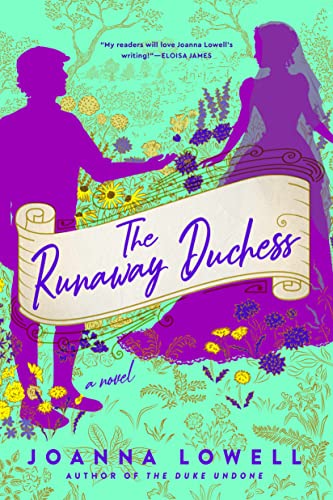 Pretty and pampered, Lavinia Yardley always dreamed of becoming a duchess. But family disgrace forces her into marriage with the most vile duke in England, and she finds herself desperate for a way out. When a rustic stranger mistakes her for globe-trotting botanist Muriel Pendrake at a train station, Lavinia has a split second to decide whether to submit to her fate or steal someone else's.

Neal Traymayne spent his youth traveling the world as Varnham Nursery's most daring plant hunter. Now he runs the nursery and is ready to settle down with a like-minded wife who'll fit right in with his large, happy, down-to-earth family. His correspondence with Muriel Pendrake proved they're the perfect match. Odd that the woman in the flesh seems more like a society belle than a scientist.

As they tramp the Cornish moors together, Lavinia and Neal discover a wild and rare desire. But this blossoming love is rooted in lies, and when the real Muriel Pendrake shows up, they can't hide from who they are. The truth may wither their hopes of happiness, or it may bloom into the sweetest love of all.

---

Release Date: Jan 18, 2022
Heat Level: Sensual
Publisher: Penguin Group
Imprint: Berkley
Price: $9.99
---
"I have learned several things about myself only recently." She took a breath. "For example, that I would rather have a daisy wrapped around my finger than wear a duke's diamond." She fisted her hands and crossed her arms, fists shoved beneath her biceps. She'd begun to tremble. "When Neal told me about the dandelions he'd named for you, I knew. I knew how much it meant, how much he loved you. And I knew that I wanted to live that kind of life." Tears spilled over her lashes. "A life where love is as common as weeds," she whispered.
Lavinia Yardley's life has been thrown in disarray following her father's fall from grace. She no longer has the option to live as she once did, and this change in her circumstance forces her to wed a much older and vile man with nothing to commend himself but his title. Upon realizing what she has done, Lavinia bolts on the day of her wedding when a handsome gardener mistakes her for the famous botanist and explorer, Muriel Pendrake. Lavinia assumes Muriel's identity, goes into hiding in Cornwall, and discovers that she is happier among the plants than she is with members of the ton. What will Neal do when he learns of her deception? Will her lies keep them apart forever?
There are quite a few words that I would use to describe Lavinia Yardley: spoiled, haughty, vapid, and extremely unlikeable. These opinions formed early on in the book, and I found myself struggling to keep reading. This hasn't happened to me many times, but Joanna Lowell changed my mind about Lavinia. The longer that I read, the more her layers were peeled back, and the more I came to root for her. She learned a lot of lessons in this story, found out who she was, and decided who she no longer wanted to be. She might never be the selfless heroine saving the less fortunate, but she is no longer a villain in my eyes. Her change can be attributed to the hero, Neal Traymayne, who helped Lavinia learn about herself along the way. Neal has to be one of my new favorite heroes. Why? He feels real to me. Flawed, imperfect, loving, kind, and funny in a self-deprecating way. I enjoyed watching them both grow as people and a couple. How come this one doesn't get five stars from me? The resolution took too long to come to, and it was tied up a little too easily. Overall, I am extremely impressed. The writing was excellent, the characters dimensional, and the plot unique.
Fans of flawed and imperfect characters like those of Sarah Maclean and Kerrigan Byrne would enjoy watching Lavinia's journey from spoiled member of the ton to romance novelist extraordinaire.
~ Michelle