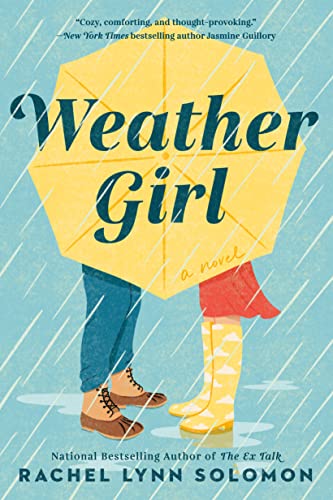 Ari Abrams has always been fascinated by the weather, and she loves almost everything about her job as a TV meteorologist. Her boss, legendary Seattle weatherwoman Torrance Hale, is too distracted by her tempestuous relationship with her ex-husband, the station's news director, to give Ari the mentorship she wants. Ari, who runs on sunshine and optimism, is at her wits' end. The only person who seems to understand how she feels is sweet but reserved sports reporter Russell Barringer.

In the aftermath of a disastrous holiday party, Ari and Russell decide to team up to solve their bosses' relationship issues. Between secret gifts and double dates, they start nudging their bosses back together. But their well-meaning meddling backfires when the real chemistry builds between Ari and Russell.

Working closely with Russell means allowing him to get to know parts of herself that Ari keeps hidden from everyone. Will he be able to embrace her dark clouds as well as her clear skies?

---

Release Date: Jan 11, 2022
Heat Level: Sensual
Publisher: Penguin Group
Imprint: Berkley
Price: $9.99
---
Ari wants to help her boss reunite her ex so she teams her with a fellow colleague at the tv station. Since she needs to get close to the ex to push him in the right direction, she reaches out to Russell who is a sports reporter at the station. The two conspire to hook up their bosses but never imagine that they would fall for each other.
I have mixed feeling with the story line. Here's what I liked: the characters felt real to me. They tackle real issues such as the main character's mental health issues. Ari struggles with her depression is real. Her relationships with every one around her has been difficult because of her depression. Mainly her family since there is a history of mental health issues in her family. The author's ability to show how someone who struggles with a lot of dark days was on point.
Russell is a single dad who is different than most of the heroes that romance readers hear about. The author describes him in a realistic physical and emotional way but something about him did not do it for me. This is where the mix feelings start to come into play. The romance. It just wasn't there. I couldn't connect with the couple as a couple.  The main focus of the book is the character. The relationship seems to be on the back burner. Ari's boss and her love interest held my attention more.
This is my first read by the author. I'm willing to venture into her other works. This one may not have worked completely for me but I still enjoyed reading it.
~ Samantha