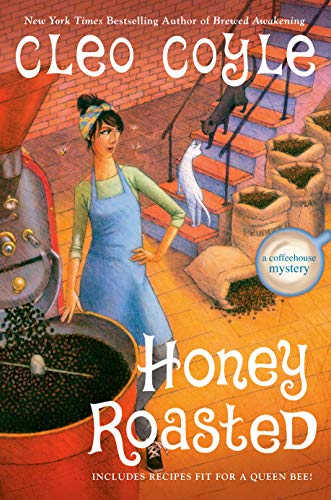 While struggling to find a romantic (and affordable) destination for her upcoming honeymoon, coffeehouse manager Clare Cosi whips up a honey of a drink made from honey-processed coffee. Clare plans to serve her outstanding new Honey-Cinnamon Latte at her spring wedding to her longtime honey, NYPD detective Mike Quinn. The culinary world is also abuzz about the amazing honey that Clare was lucky enough to source for her shop's new latte. Produced by Madame's old friend "Queen" Bea Hastings, the rare, prize-winning nectar from Bea's rooftop hives commands a premium price, and top chefs compete for a chance to use it in their signature seasonal dishes.

One night, a swarm of escaped bees blanket the Village Blend's chimney, and Clare discovers Bea's unconscious body after she seemingly fell from her high-rise rooftop-hive setup. The police want to rule it as a tragic accident or possible attempted suicide, but Clare does not believe either theory. Like Madame, she knows this Queen would never abandon her hive. To sort out this mystery, Clare investigates a world of cutthroat chefs, culinary start-ups, and competitive urban beekeepers. But can she uncover the truth without getting stung?

---

Release Date: Jan 25, 2022
Series: A Coffeehouse Mystery
Book: 19
Publisher: Penguin Group
Imprint: Berkley 
Price: $14.99
---
Clare Cosi is keeping busy managing the Village Blend coffee shop in the Greenwich Village neighborhood of New York City while also looking for affordable honeymoon ideas for her upcoming spring wedding. Her fiance, Lieutenant Mike Quinn, is working on a difficult assignment investigating the death of several homeless men from a synthetic opioid and has no time for wedding planning or romance. Things get even worse for Clare when the coffee shop is invaded by a huge swarm of bees. Clare realizes she knows the owner of the bees and finds Bea Hastings has been attacked on her own rooftop and her hives have been destroyed. Clare is determined to find out who is behind this attack, as well as get things back on track in her relationship with Mike, even if that means accepting help from her business partner and ex-husband Matt.
Honey Roasted is the nineteenth book in the Coffeehouse mystery series. I've only read a few of the prior books, so this is a book that is very accessible to new readers. It's easy to get to know the main character, Clare, and the important people in her life both in and outside the coffee shop. The book has a nice balance of portions devoted to Clare's personal life and the case she is working on. There is a lot of information about bees, beekeeping, and honey which is an important part of the plot and is presented in an interesting way. Less enjoyable are the numerous bee and honey related puns and analogies throughout the book. The jokes are cute at first, but get old quickly.
Clare doesn't hesitate to question potential witnesses and suspects in the attack on Bea, who is a good friend of Clare's former mother-in-law and mentor. With Mike wrapped up in his own case, Clare gets a lot of assistance from her ex-husband, Matt Allegro, on the investigation. I can see why Clare has moved on from Matt romantically, but they make a good team and I really enjoy their teasing banter. I question the wisdom of Clare asking Matt for very personal romantic advice from her ex, but otherwise, I like their friendship. I also enjoy the friendship between Clare and Matt's mother, "Madame", who owns the coffeehouse. Madame is a smart businesswoman and is very wise, and I like that she and Clare have been able to remain so close even though Clare is no longer married to Matt.
Clare questions a lot of different people in the investigation and there are many details given about each of these side-characters and locations. I like the complexity of the plot, but sometimes all the details slow the pace of the book and make it longer than it needs to be. There are many red herrings and I was fooled by a couple of them. I was surprised when the details and motives were revealed after a very dramatic finish. The end of the case is followed by an interesting epilogue giving closure to various subplots in the book. There are also several recipes and information on honey at the end. Overall, this is a satisfying installment in this series that fans and new readers can enjoy equally.
~ Christine