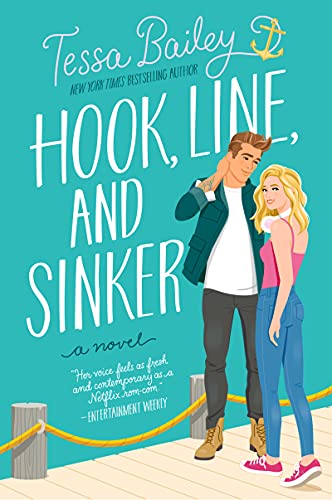 King crab fisherman Fox Thornton has a reputation as a sexy, carefree flirt. Everyone knows he's a guaranteed good time—in bed and out—and that's exactly how he prefers it. Until he meets Hannah Bellinger. She's immune to his charm and looks, but she seems to enjoy his… personality? And wants to be friends? Bizarre. But he likes her too much to risk a fling, so platonic pals it is.
Now, Hannah's in town for work, crashing in Fox's spare bedroom. She knows he's a notorious ladies' man, but they're definitely just friends. In fact, she's nursing a hopeless crush on a colleague and Fox is just the person to help with her lackluster love life. Armed with a few tips from Westport's resident Casanova, Hannah sets out to catch her coworker's eye… yet the more time she spends with Fox, the more she wants him instead. As the line between friendship and flirtation begins to blur, Hannah can't deny she loves everything about Fox, but she refuses to be another notch on his bedpost. 
Living with his best friend should have been easy. Except now she's walking around in a towel, sleeping right across the hall, and Fox is fantasizing about waking up next to her for the rest of his life and… and… man overboard! He's fallen for her, hook, line, and sinker. Helping her flirt with another guy is pure torture, but maybe if Fox can tackle his inner demons and show Hannah he's all in, she'll choose him instead?

---

Release Date: Mar 1, 2022
Series: It Happened One Summer
Book: 2
Heat Level: Hot
Publisher: HarperCollins
Imprint: Avon 
Price: $10.99
---
Aah sigh. Fox. Is. Fabulous. 
The first book was all things wonderful in a year where everything was awful. This second story is like the flaky crust of a perfect pie. I'm talking the full piece.
Hannah Bellinger, younger sister to the previous heroine, is back in the crab town of Westport, but this time she's brought a film crew and is here based on a movie directors' vision. Same director she's been pining over for years. Not wanting to barge in or intrude on her sisters happily wedded bliss she decides to stay with consummate ladies' man, Fox.
Fox has his own rocky backstory, but he's starting to come out of his shell and even venturing into territory he's never attempted before. Sharing a living space with a woman. Nope. Captaining is own ship. Nope. The journey is half temptation, and half overcoming is own issues.
The two in the months since the end of book one, It Happened One Summer, have cultivated a friendship between these two through text and music. No one expected it would go anywhere, except for me and other readers, of course. Let's just say it's amazing how interaction with a single person can change how the other engaged individual acts and reacts. In the case of Hannah and Fox, it's all about re-invention and becoming more like the people they are instead of what they've always thought they needed to be.
Fox was such the bad boy in book one and he makes this complete 360 I did not expect to happen. I honestly wasn't sure Fox could be redeemed from his typical one-night stand, lothario status. But Bailey found a way and that way is Hannah. She's everything unexpected and different with her tendency to rely on music to guide her way through life and emotions, she teaches Fox how to open up.
Add in a little jealousy, a crazy bingo night, and plenty of interference from friends, grandma's, sisters and more… Bailey gives us another rom-com romance with plenty of laughs, heartaches and swoons. If you love Jill Shalvis or Lauren Layne you would enjoy this one. Note: This book is a standalone, but is better enjoyed if you read book one.
~ Landra