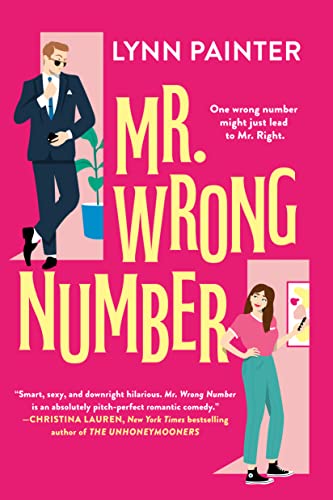 Bad luck has always followed Olivia Marshall…or maybe she's just the screw-up her family thinks she is. But when a "What are you wearing?" text from a random wrong number turns into the hottest, most entertaining—albeit anonymous—relationship of her life, she thinks things might be on the upswing….

Colin Beck has always considered Olivia his best friend's annoying little sister, but when she moves in with them after one of her worst runs of luck, he realizes she's turned into an altogether different and sexier distraction. He's sure he can keep his distance, until the moment he discovers she's the irresistible Miss Misdial he's been sort of sexting for weeks—and now he has to decide whether to turn the heat up or ghost her before things get messy.

---

Release Date: Mar 1, 2022
Heat Level: Sensual/Hot
Publisher: Penguin Group
Imprint: Berkley 
Price: $9.99
---
"She was less shitshow and more about living in high-definition, wide awake, full on 5K color. Or something more poetic than that. But once I'd seen it, I couldn't unsee it., It was in everything she did, and it was everyone was drawn to her the way they were."
Olivia Marshall's life is spiraling out of control after she catches her boyfriend cheating on her with her co-worker. It goes from bad to worse when she is forced to move in with her brother after accidently burning down her apartment. No job, no apartment, and barely anything to her name Olivia is forced to face the mess that is her life. Absolutely nothing is going her way until she receives a text from Mr. Wrong Number who makes Olivia start to feel alive again, but will she be disappointed when she finds out who he is in the real world?
I think the really great thing about this book is that most of us can relate to Olivia. Some of us truly have days where we are disasters falling over our own two feet or making blunders that are extremely embarrassing. It's because of how human she is that we are able to connect with her so easily. I was rooting for her after every mishap hoping that she finally landed her dream job and the perfect guy, and that her life was going to improve drastically. She is hilarious, sarcastic, self-deprecating, and unapologetically herself. Mess and all. I loved that so much about her.
Colin Beck, Mr. Wrong Number, was the perfect hero. He was everything that Olivia was not. They balanced each other perfectly. This was a quirky and fun romantic comedy that I think a lot of readers will enjoy.
Fans of romantic comedies similar to those of Sally Thorne and Abby Jimenez may find this something that checks all the boxes for them.
~ Michelle