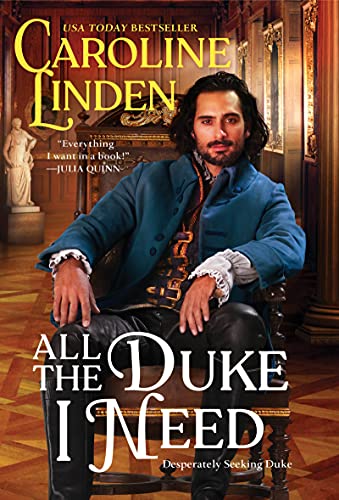 She's a duchess in all but name
Philippa Kirkpatrick has been raised at Carlyle Castle by her doting guardian, the Duchess of Carlyle. Preoccupied with the succession of the dukedom and the duke's health, the duchess has left the estate in Philippa's hands—and Philippa is determined not to let her down.  
He's not a duke at all . . .
The arrival of a new estate steward should be a relief, but instead it threatens to upend everything. William Montclair is handsome, brash, and scandalously bold. The horrified duchess wants to sack him on sight. Philippa is just as shocked . . . but also, somehow, charmed.
But could he be her hero?
Carlyle cannot be her home forever, but Philippa is determined to leave it in good hands. She means to teach Will how to run the estate properly and love Carlyle as she does. The more time she spends with Will, though, the more she likes him . . . trusts him . . . even loves him. Unfortunately, she's also more and more certain that Will is keeping secrets that could break her heart.

---

Release Date: Apr 26, 2022
Series: Desperately Seeking Duke
Book: 3
Heat Level: Sensual
Publisher: HarperCollins
Imprint: Avon Books 
Price: $5.99
---
This one was good, but not quite as engaging.
Linden is typically a must read for me. She writes solid stories and I've read almost all in her latest series, Desperately Seeking Duke. But this latest, while a good wrap up to the series itself fell a little flat for me. Maybe it was the slow burn part of the tale or the unreliable narrator bit from the hero that tied into a nice little bow at the end?
Let's dig into the meat though. As far as characters go, readers finally get to have the lovely Phillipa as a heroine. She's been a staple secondary character throughout the series and it was fabulous seeing her lead her own tale. I love her spunk, her natural caring for the place and people she's grown up around, and her fierce determination. She sees what she wants and goes after it. She's also caring and kindhearted. Her nature causes immediate sparks with the new estate manager, Will.
Will is our would-be hero. He's in charge of managing the estate, but also hails from America. He's too forthright, a champion of change and innovation, everything Phillipa's grandmother is against. But he's got his own secrets too. Including the plan to only stay at the estate in the position for six months and then leave. He won't commit to anything long-term.
Eventually Phillipa and Will unite together and find common ground, leading only to the acknowledging the very real attraction between them. I loved this part, but despised Will's lack of communication. That's mainly what kept his book from a higher rating.
Ultimately, the story wraps with a somewhat surprising ending though I believe fans of this series will be satisfied with the result. Overall, it's not a bad conclusion though I wanted bit more on the conflict between our two main characters. For readers who enjoy Lisa Berne.
~ Landra