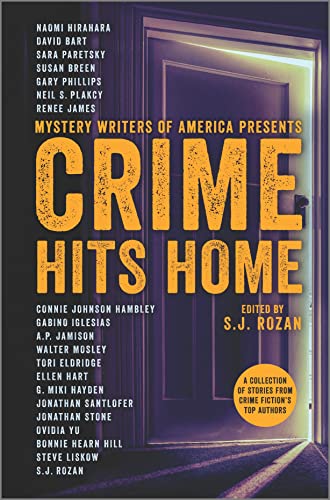 The newest anthology from Mystery Writers of America explores the theme of home and the crimes that endanger it, with stories by Ellen Hart, Naomi Hirahara, Walter Mosley, Sara Paretsky and more.

Everyone comes from someplace. Everyone has somewhere they feel safe. Some people have found their home and are content where they are. Others feel trapped and yearn to go somewhere else. Many are somewhere else and yearn to go back. But evenin these safest of places, sometimes…crime hits home. What happens then?

In this volume, MWA brings together some of today's biggest crime writers—and some of our most exciting new talents—to consider this question. Each writer has defined home as they see fit: a place, a group, a feeling. The crime can come from without or within. What happens when crime hits home?

---

Release Date: Apr 19, 2022
Publisher: Harlequin 
Imprint: Hanover Square Press
Price: $12.99
---
Crime Hits Home is a collection of short stories by twenty different writers. The authors, the characters, and the subject matter of the stories are very diverse. The common theme of the stories is what happens when "crime hits home." Some of the contributing authors are very well known, such as Naomi Hirahara, Sara Paretsky, and S.J. Rozan, and I've been reading their books for many years. Other authors were new to me, but may be familiar to others. An anthology of stories by different authors is almost always going to have stories that readers enjoy more than others, but it's a great way to see additional works by authors you like as well as learn about authors new to you.
I wasn't surprised that some of my favorite stories in the book are by authors I was already familiar with. Sara Paretsky contributes an unusual story about a college student that has a couple unexpected twists. The story by the editor of the collection, S.J. Rozan,, is short but powerful and features a smart, brave young woman who has experienced the unthinkable. I also enjoyed the story by Susan Breen about a woman who is a "scam baiter", trapping men who con women out of money. Two of my other favorites are by authors I was unfamiliar with. David Bart's "The World's Oldest Living Detective" is an entertaining and touching story about a retired detective who is now living in a retirement home. Another favorite is The Happy Birthday Song By Bonnie Hearn Hill about a young girl who must make a decision that will affect the rest of her life.
In addition to the stories and authors I've mentioned, there are few other stories I enjoyed. Some of the others were either two grim and depressing for my taste or I just couldn't connect with. Even though the stories were hit or miss for me, the few standouts that I mentioned made the book a worthwhile read for me. There is usually something for everyone in a collection like this, so those that weren't to my liking may resonate with other readers.
~ Christine