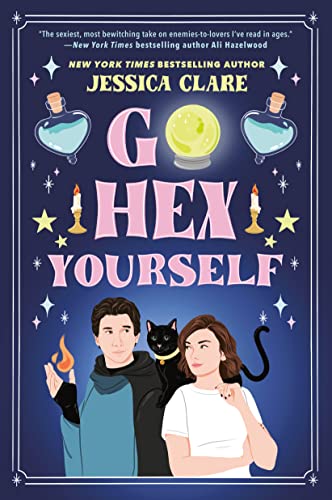 When Reggie Johnson answers a job ad in the paper, she's astonished to find that she's not applying to work at her favorite card game, Spellcraft: The Magicking. Instead, she's applying to be an actual familiar for an actual witch. As in, real magic.

The new job has a few perks – great room and board, excellent pay, and she's apprenticing to a powerful witch. Sure, the witch is a bit eccentric. And sure, there was that issue with the black cat Reggie would prefer to forget about. The biggest problem, however, is warlock Ben Magnus, her employer's nephew and the most arrogant, insufferable, maddening man to ever cast a spell.
 
Reggie absolutely hates him. He's handsome, but he's also bossy and irritating and orders her around. Ben's butt might look great in a crystal ball vision, but that's as far as it goes. But when someone with a vendetta targets the household, she finds herself working with Ben to break a deadly curse. Apparently, when they're not fighting like cats and dogs, things get downright…bewitching.

---

Release Date: Apr 19, 2022
Heat Level: Warm/Sensual
Publisher: Penguin Group
Imprint: Berkley 
Price: $9.99
---
"No, my Ben isn't a white knight at all, is he? He's someone with dark secrets, but I feel like I know him. I trust him. He might be older than I am, with a different story, but we're the same people inside – lonely and looking for that right person. And with him, I never feel lonely anymore. I feel seen. I feel cherished. Important."
It is imperative that Reggie Johnson finds and keeps a job since she is drowning in debt after her parents racked up thousands of dollars in credit card debt in her name. An ad in the paper that looks too good to be true catches her eye. Could this be the saving grace that she so badly needs? Reggie doesn't understand the eccentric Dru Magnus, the enigmatic Ben Magnus, or their obsession with believing magic is real. She is in for a surprise when she finds out that not only is magic real, but that it runs through her blood just as it does theirs.
This was my first Jessica Clare, and while I enjoyed it I find myself wishing that there had been a little more worldbuilding. It felt like a lot of things that were truly important in Dru and Ben's world were glossed over. It's such an integral part of any story because the reader can't fully immerse myself in the world if they are struggling to imagine it. All that aside, there is a tremendous cast of delightful characters in this story who made up for the lack in worldbuilding.
Ben is made out to be a big, bad, evil warlock, but in all actuality he is a cinnamon roll, Dru is more than a little bonkers, but she is lovable, and Reggie is someone you root for because her past truly prevents her from living out her future to the fullest. Overall, it was a good story. I wish the plot and the worldbuilding had been more substantial, but that is just me being picky. It's a quick, fun, and easy read that would be good on the days you don't want anything too angsty.  
If you're a fan of rom-com writers such as Abby Jimenez and Mia Sosa then this book might be one that you enjoy.
~ Michelle