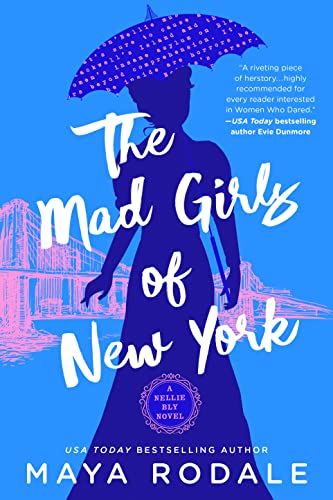 In 1887 New York City, Nellie Bly has ambitions beyond writing for the ladies pages, but all the editors on Newspaper Row think women are too emotional, respectable and delicate to do the job. But then the New York World challenges her to an assignment she'd be mad to accept and mad to refuse: go undercover as a patient at Blackwell's Island Insane Asylum for Women.

For months, rumors have been swirling about deplorable conditions at Blackwell's, but no reporter can get in—that is, until Nellie feigns insanity, gets committed and attempts to survive ten days in the madhouse. Inside, she discovers horrors beyond comprehension. It's an investigation that could make her career—if she can get out to tell it before two rival reporters scoop her story.

---

Release Date: Apr 26, 2022
Series: A Nellie Bly Novel
Book: 1
Genre: Historical Mystery
Publisher: Penguin Group
Imprint: Berkley 
Price: $7.99
---
"And the thing was, Nellie was hungry for more than just food. She and all these mad girls of Blackwell's were. They wanted freedom. They wanted to be seen and loved, cherished even. If not that, then understood and kept in care and comfort. Help getting well would be nice. Some nourishment for the brain and body and soul would go so far toward making them whole again. What Nellie was beginning to understand was that women arrived here with chips and cracks and little fixable injuries, but it was the asylum that broke them and made them utterly unsuitable for the outside world. So here they stayed, starving and out of sight and waiting. For what? Nellie, maybe. She was ambitious and arrogant enough to think so, even though the popular consensus was that ambition was an ugly color on a woman. But it didn't seem like anyone else was going to do anything about it."
Nellie Bly packs up and moves to New York to make it big as a reporter, but she struggles to even get in the door. She is persistent, motivated, and willing to do anything to get a story. Including getting herself committed to Blackwell's Insane Asylum to expose the living conditions of the women residing there. At first, Nellie wants to get the story so that she can get kickstart her career, but the more time she spends at Blackwell's, she knows she needs to tell the stories of these women not for herself but for them. If she can get the story out there then maybe just maybe the living conditions can be improved for the women she comes to care about during her time at the asylum.
I struggled at the beginning of this one, but the more I read the more engrossed I became with Nellie and her fearless courage to go undercover to get the story of the century. Yes, this story is fictional in parts where Maya Rodale took some creative liberties, but the fact that Nellie was a real-life woman who did this is absolutely incredible. She transformed the life of so many people, and was instrumental in making changes for some of the most vulnerable women in the 1800's.
She led a fascinating life and watching her come to life in the pages of a book was remarkable. I felt pride in what Nellie was doing, and the things she was trying to accomplish for the friends she made in the asylum. I also felt for the women experiencing that horrific treatment just for being too outspoken and difficult for the people in their life. I mourned these women and what they had to go through. So, if you are looking for a light-hearted read then this isn't for you. If you want to read about a story about a rebellious woman who makes the world a better place then pick this up!
If you are a fan of new historical fiction stories coming out like those of Kelly Bowen and Lorraine Heath then give this one a shot.  It might be right up your alley.
~ Michelle