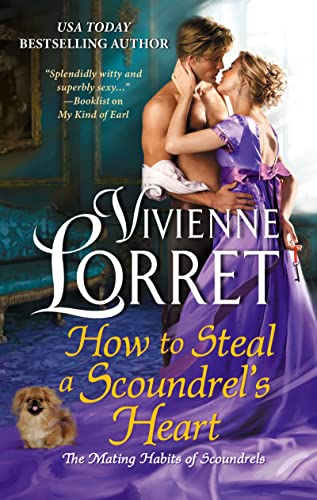 Ruined debutante Prudence Thorogood lost everything when she was ousted from polite society, including her inheritance. Now she'll do anything to take back what's hers… even if she has to steal it. Accepting a scandalous offer from Lord Savage seems like the perfect solution to disguise her criminal intentions from the ton. Until she discovers that there's more to this scoundrel than meets the eye.
Leo Ramsgate, Marquess of Savage, has everything except for a heart. That organ dried up long ago after a devastating betrayal. Since then, he vowed never to trust or love again. He ensures that his dalliances are mutually satisfying, but always temporary… until he meets the reserved Miss Thorogood. Not one of his previous lovers has ever beguiled him the way she does. Not one has made him want to break his own rules. Not one has tempted him to keep her… forever. 
Prue has every intention of disappearing from London after their affair ends. But her plan falters when she finds herself falling hopelessly in love with a man who may never love her in return. With time running out and so much at stake, she cannot help but wonder… 
How to Steal a Scoundrel's Heart?

---

Release Date: May 24, 2022
Series: The Mating Habits of Scoundrels
Book: 4
Heat Level: Hot
Publisher: HarperCollins
Imprint: Avon Books
Price: $5.99
---
This book, Lord Savage is probably my favorite. Readers, if you loved Sebastian from the Devil In Winter, then you need to give Lord Savage a shot. 
Our heroine Prudence is a woman scorned. Ruined by a so-called gentleman, she is the reason the previous heroines in this series started on their book writing and researching paths. These ladies were determined to find a way to warn other women, to help protect them from the situation Prudence finds herself in. Yet, she's a woman with justice in mind. She'll lie, cheat and steal to get it and what better way than to enter into a bargain with the type of man believed to be a spawn of Satan. 
Psst… I loved Prudence for her sheer determination and strength. No matter the villain or the outcome she's motivated to succeed.
Our hero, Lord Savage, Leo, is not hero material. He's only motivated by his own interests and preferably women with experience. Yet our dear Prudence rouses his interest. Before long Leo is breaking his own rules in this quest to seduce her for real. Though someone from his past is trying to ruin everything.
There was, or is, something magical about this story. Lorret ensnared me from chapter one and I couldn't help but literally inhale this book like a ravenous Kirby. From the chemistry between Prudence and Leo, both of their heartbreaking backstories, and to how they rise together. The best relationships in romance are how hero and heroine make each other better versions of themselves, and the journey towards this HEA was so worth it. 
Overall, like I said before if you're a fan of Chase or Kleypas then you need to get reading Lorret. 
~ Landra