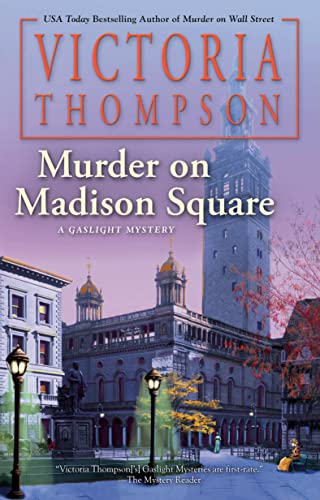 Former policeman Frank Malloy is frustrated when a woman requests his private detective services to implicate her wealthy husband in adultery, the only legal grounds for divorce in New York state. Although Mrs. Bing seems genuinely distressed about her marriage and desperate to end it, she refuses to tell Frank the reason she absolutely must divorce her husband and admits she has no legal grounds. Frank explains he won't manufacture evidence for her and sends her on her way. 
The following week, Frank and Sarah happen to be attending the first ever auto show in Madison Square Garden when they meet the woman's husband, Alfred Bing, who has invested in a company that produces one of the electric motorcars on display. A few days later, the newspapers report that millionaire Alvin Bing has been found dead, pinned beneath one of the wheels of his very own motorcar. But who was driving it? The obvious suspect is Mrs. Bing, but Frank and Sarah find that nothing is as it seems in their puzzling, dangerous search for truth. 

---

Release Date: May 3, 2022
Series: Gaslight Mystery
Book: 25
Publisher: Penguin Group
Imprint: Berkley 
Price: $14.99
---
Ethel Bing comes into former NYPD Detective Frank Malloy's private investigation agency and wants to hire him to set up phony evidence that her husband has been unfaithful. This was the only way a divorce could be granted in New York in 1900 when the story takes place. Frank turns her away since he doesn't do that type of work. When Frank and his wife Sarah attend the very first auto show at Madison Square Garden, they cross paths with both Ethel and her husband, Alvin, who is a major investor in a company that makes automobiles. Soon afterwards, Alvin is the victim of a hit and run from one of his own automobiles, and Ethel hires Frank to prove she isn't the murderer.
Murder on Madison Square is the latest in the long-running Gaslight Mystery series. I have followed this series from the beginning, but the case stands on its own and I think there is enough background information about the main characters that the story would be just as enjoyable to new readers. I am happy Sarah plays such a large role in this book helping her husband get to the truth behind the strange family dynamic between Ethel, her daughter, Alvin, and his daughter. She and Frank get a lot of help from Frank's partner, Gino, as well as their former nanny, Maeve. There is just enough of Maeve to add to the story but not so much as to take over the story. I like the way they are each able to use their individual strengths to get information and then put it all together to solve the case.
The new "horseless carriages" play a big part in the story, and I really enjoyed the information about the fledgling automotive industry both in the story and in the author's note at the end of the book. Some of the clues to the murder seemed obvious to me early on in the story and I'm surprised Frank and Sarah didn't also catch on sooner. However, some appalling details come out that I never predicted. I'm glad the story ends on a hopeful note for some of the characters who experienced so much tragedy in their lives.
~ Christine